Congo arms cache found on 'Terminator' Ntaganda's farm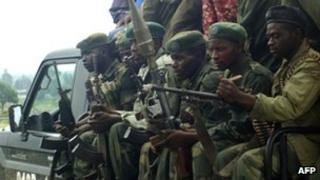 A massive arms cache has been uncovered in eastern Democratic Republic Congo on the farm of renegade soldier Bosco Ntaganda, the army has told the BBC.
Other heavy weapons were found in two other locations in North Kivu, the scene of recent fighting against army mutineers, Col Innocent Gahizi said.
He agreed with analysts that a move by some mutineers to appoint a new leader was a ploy to protect Gen Ntaganda.
Known as the "Terminator", he is wanted by the ICC for alleged war crimes.
The International Criminal Court accuses Gen Ntaganda of recruiting child soldiers for the same rebel group as Thomas Lubanga, who in March became the first person to be convicted of war crimes by the The Hague.
Deadline looms
Heavy fighting has raged for weeks in the Masisi area, following last month's defection of up to 600 troops loyal to Gen Ntaganda.
The general, who has fought for various militias over the years, denies masterminding the army mutiny by former members of the CNDP rebel group.
CNDP had transformed itself into a political movement and soldiers, led by Gen Ntaganda, were integrated into the Congolese army under a 2009 peace deal.
A recent statement said CNDP has formed a military wing called M23 - under the sole command of Col Sultani Makenga, who has also defected from the Congolese army.
Col Gahizi, who is the army operations commander in North Kivu, told the BBC's Great Lakes Service the move was based on "lies", dismissing it as a way of distancing Gen Ntaganda from the rebellion.
He said three trucks full of machine guns, rifles and grenades had been found by the army in the areas of Singi, Mushake and Kirorirwe.
The army says it has regained control of the entire eastern area of Masisi and has declared a ceasefire, giving the rebels until Thursday to surrender.
Late on Tuesday night, there were clashes in the Kibumba area, which is close to the provincial capital Goma, after Gen Ntaganda tried to cross into the Virunga National Park, Col Gahizi said.
Tens of thousands have fled their homes in the area, after weeks of fighting.
The Congolese authorities say they want to arrest Gen Ntaganda but put him on trial themselves, rather than sending him to The Hague.
As well as Lubanga's UPC rebel group, Gen Ntaganda was also part of the CNDP militia which threatened to invade Goma in 2009, leading some 250,000 people to flee.
He and his troops were integrated into the national army later that year, before defecting in April.
People in and around the town of Goma blame them for persistent unrest - including looting and rape - since the formal end of DR Congo's war in 2003.