South Sudan accuses Khartoum of bombing its territory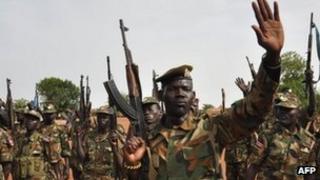 South Sudan has accused Sudan of bombing within its territory, in violation of a UN Security Council resolution to end hostilities.
Juba's information minister told the BBC several areas had been targeted in air raids in the last 48 hours.
But Khartoum said it had the right to respond to acts of aggression.
Disputes over oil stemming from South Sudan's secession in July led to clashes last month and fears of a return to all-out war.
The UN has threatened sanctions if both sides fail to negotiate.
Following the UN Security Council's resolution a week ago, the neighbours agreed to follow a African Union roadmap under which they must restart negotiations and reach an agreement on outstanding disagreements within three months.
'Orders to respond'
Mr Benjamin said the new attacks were launched on Tuesday and Wednesday in the states of Upper Nile and Western Bahr al-Ghazal.
He said the bombing was in violation of the UN Security Council which called for an end to hostilities by last Friday.
"Khartoum is bombing civilian targets, killing women and children and destroying the property of very simple people in these areas," Mr Benjamin told the BBC's Focus on Africa programme.
According to Reuters news agency, Sudan used using MiG jet fighters, Antonov bombers and ground shelling in its attacks.
Mr Benjamin said his country had never left the negotiating table and did not believe that the outstanding issues between them could be resolved militarily.
But he said South Sudan had the "the right of self-defence".
"We will ask the Security Council to hold accountable the belligerent party and that is Republic of Sudan," the minister said.
However, Sudan's media spokesman in London, Khalid al-Mubarak, told the BBC he believed the attacks were related to attacks on Sudanese territory backed by Juba.
Both sides accuse the other of backing proxy armies - and it was reported earlier on Wednesday that Darfari rebels claimed to have captured a garrison town, Girayda, from government forces.
"Where ever there is an aggression against our Republic of the Sudan our forces have got orders to respond," Mr Mubarak told Focus on Africa.
The BBC's Nyambura Mwambugu, in South Sudan's capital, Juba, says the violence is a massive step backwards because it had appeared that the two sides were on the verge of respecting the UN request for an end to hostilities.
It comes on the very day that both sides were supposed to pull back their troops from the border areas and activate a joint monitoring mission, she says.
Meanwhile aid agencies working in the border regions are warning of a deteriorating situation - with the number of those fleeing bombings increasing.
There is also a surge in the number of refugees crossing over the border from South Kordofan and Blue Nile states in Sudan, our reporter says.
Conflicts have erupted in these states over the last year where communities traditionally allied to the South found themselves north of the border after Juba's independence.
The Security Council has backed an African Union plan which called for a written commitment by both governments to stop fighting, and threatened sanctions, such as asset freezes and travel bans, if its terms were not met.
Last year, Southern Sudanese voted overwhelming in favour of independence from Sudan in a referendum promised as part of a peace deal in 2005 which put an end to the 22-year civil war in which some 1.5m people died.