South Africa seizes $7m in 'rhino-poachers' assets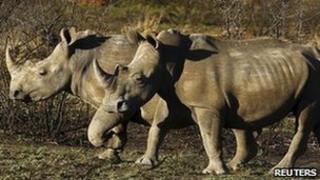 Police in South Africa have confiscated assets worth nearly $7m (£4m) from three suspected rhino poachers.
The men, two of whom are vets, are already facing 1,872 charges of racketeering.
Large syndicates are often involved in the multi-billion dollar illegal rhino horn trade, exporting the horns to parts of Asia and the Middle East.
Despite the recent deployment of extra troops to South Africa's borders, 210 rhinos have been killed this year.
The Kruger National Park - one of the world's largest game parks - has been worst affected losing a total of 127 rhinos since January, government figures released on Tuesday showed.
'Crime does not pay'
Police spokesman Col Vishnu Naidoo said the seized assets are believed "to have been acquired through criminal activities".
The security forces had decided to seize the assets to "preserve" them until the case - one of the biggest wildlife cases in South Africa - is finalised, he said in a statement .
If the three suspects are convicted the proceeds will be used "to continue with the combating of crime", Col Naidoo said.
"We call for assets of every person arrested to be scrutinised and where possible, seized," he said.
"Generally, those that commit such crimes will serve their sentences but still come back to a life of luxury. By seizing assets, criminals have no worldly possessions to enjoy and this certainly helps send out a clear message that crime does not pay."
Since January, 99 people have been arrested for rhino-related matters country wide, the police spokesman said.
Last year, a record 450 rhinos were killed in South Africa.
The numbers have soared in recent years to meet the demand for their horns in Asian traditional medicine, especially in China and Vietnam, where they are thought to have powerful healing properties.
But scientists say rhino horns are made from the same material as fingernails and have no proven medicinal properties.
The black market price of rhino horn is now in the region of $55,000 per kilo.
South Africa has become the focal point of the rhino trade because it has between 70% and 80% of the global population - about 20,000 animals.
The country's government has commissioned a study into whether legalising the trade in rhino horn could help reduce poaching.