Congo warlord Bosco 'Terminator' Ntaganda 'replaced'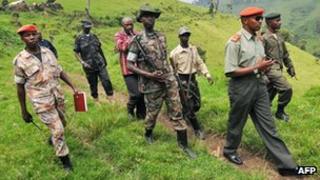 Some mutineers in eastern Democratic Republic Congo loyal to warlord Bosco Ntaganda, known as "The Terminator", have replaced him as their leader.
A statement said the fighters had formed an armed group called M23 to be headed by Col Sultani Makenga, who also recently defected from the army.
Analysts say the move could be a way of protecting Gen Ntaganda, who is wanted by the ICC for alleged war crimes.
Gen Ntaganda, who is in hiding, denies masterminding last month's army mutiny.
Several hundred troops loyal to him went on to seize two towns in Masisi, near the North Kivu capital, Goma.
But the army says it has now regained control of the entire eastern area of Masisi and has declared a ceasefire, giving the rebels until Thursday to surrender.
The International Criminal Court accuses Gen Ntaganda of recruiting child soldiers for the same rebel group as Thomas Lubanga, who in March became the first person to be convicted of war crimes at The Hague.
The Congolese authorities say they want to arrest the general, who has fought for various militias over the years, and put him on trial in DR Congo, rather than sending him to the ICC.
'Mistreated in army'
The statement about the army mutineers' new group was issued on headed note paper from the Congolese National Army (ANC) and the CNDP, formerly a Tutsi-led militia group which became a political party when its fighters, led by Gen Ntaganda, were integrated into the army in 2009.
It said the CNDP had formed a military wing called M23 and the army deserters should take orders from Col Makenga alone with immediate effect.
On Monday, army spokesman Lt Col Sylvain Ekenge admitted that Col Makenga, a senior military officer, had joined the rebellion last week along with about 80 men.
The statement was signed by Lt Col Vianney Kazarama, who told the BBC that the fighters had mutinied because they had been mistreated in the army, not been paid enough and that there was a general lack of ammunition.
"The Congolese government did not respect the agreement we signed in 2009, that's why we've defected and abandoned the integration programme," he told the BBC's Great Lakes Service.
"We need the government to re-negotiate with us."
Thousands of people have fled across DR Congo's borders to Rwanda and Uganda because of the recent fighting.
Gen Ntaganda was born in Rwanda, where he fought with the ethnic Tutsi rebels who brought current President Paul Kagame to power and ended the genocide in 1994.
Some Congolese army sources say Rwanda is still backing Gen Ntaganda and his rebels, who are mostly Kinyarwanda-speakers.
This was denied by President Kagame, who last week told Jeune Afrique magazine that the situation in North Kivu was purely a Congolese issue.
Rwanda has previously backed several rebel groups in DR Congo but relations have improved in recent years.