Mali junta forces hunt down counter-coup soldiers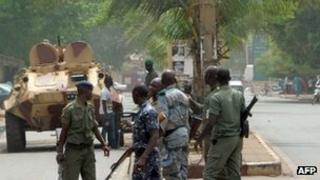 Gunfire has been heard in Mali's capital Bamako for a third day as junta patrols hunt down soldiers who had tried to stage an counter-coup.
Panicking residents fled the city centre - but there has been no fresh fighting, a junta spokesperson said.
The shots were fired into the air to break up a student protest, according to Bakary Mariko.
Fighting broke out on Monday after reports that leaders of the anti-junta presidential guard would be arrested.
'Footballers stranded'
Students, many of whom opposed the coup in March that toppled President Amadou Toumani Toure, took to the streets after rumours spread that their student leader had been killed by the junta.
Mali's interim Prime Minister Cheick Modibo Diarra went on TV state to deny the rumours and the protesters quickly dispersed after warning shots by soldiers loyal to junta leader Capt Amadou Sanogo.
"The rumour was spread just to get masses of students onto the streets and to take advantage of the confusion that would create," Mr Diarra said.
"I'm asking all students to stay at home the next few days until we can determine exactly what is going on."
The junta says they are fully in control of the city - after two days of fighting in which 14 people died and some 40 people have been wounded on both sides of the conflict.
The fighting has also delayed the return home of football teams from Egypt and Nigeria, who had been playing in Mali .
Bamako-based journalist Martin Vogl told the BBC the junta is patrolling the city, still trying to round up all members of the "Red Berets" presidential guard who on Monday attacked the state broadcaster, the airport and tried to head for the junta headquarters.
So far, 140 "Red Berets" have been arrested, Mr Mariko says, adding that "there are patrols going on and there may be some warning shots and testing of weapons but that is all".
"Everyone involved, no matter to what extent, in this odious act against the Malian people will be tracked down and brought before the competent jurisdictions," a junta statement on Tuesday read.
Martin Vogl says that while the presidential guard was the section of the army which was least supportive of the coup, there is no sense that they are now trying to bring back former President Toure, who has fled to neighbouring Senegal.
The 22 March coup was led by soldiers who accused former President Toure of failing to combat an insurgency by rebels in the north of the country.
They took advantage of the unrest to make rapid advances, seizing control of the three northern provinces of Timbuktu, Kidal and Gao - a mostly desert area the size of France.
The rebels are a combination of ethnic Tuareg separatists and Islamists, who want to impose Islamic law across the whole country.
Capt Sanogo's military council officially stepped aside on 12 April but it still wields considerable influence - and holds three cabinet posts in Mali's interim government.
The coup leaders oppose Ecowas plans for interim President Traore to stay in power for a year while organising elections, Martin Vogl reports.