Ecowas imposes sanctions on Guinea-Bissau junta leaders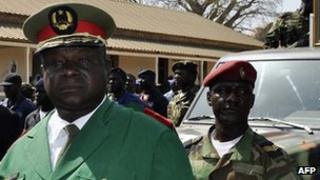 West African regional bloc Ecowas has imposed targeted sanctions on Guinea-Bissau's military junta after talks to restore civilian rule broke down.
Coup leader General Antonio Indjai "is not willing to negotiate and clearly prefers to face the consequences," an Ecowas statement said.
The country has seen many coups since independence from Portugal in 1974.
Meanwhile, the deployment of regional peacekeeping troops, due on Sunday, has been delayed.
'Use of force'
Ecowas mediators said the junta rejected key demands - including that elections be held within 12 months, Reuters reports.
The military leaders - who took power on 12 April between the two rounds of a presidential election - had previously said polls to return the country to constitutional rule would take place within two years.
At a 26 April summit in Ivory Coast's commercial capital, Abidjan, Ecowas gave Guinea-Bissau's junta 72 hours to agree to a return to constitutional order and to allow in up to 600 regional troops or face targeted sanctions.
West Africa's heads of state are due to meet on 3 May to discuss "all other necessary measures, including the use of force to enforce the decisions of the summit," the Ecowas statement added.
Soldiers, led by Guinea-Bissau's army chief of staff, General Antonio Indjai, toppled the government over its alleged plans to reduce the size of the army.
Gen Indjal became the army chief after staging an army mutiny in April 2010.
Interim President Raimundo Pereira and former Prime Minister Carlos Gomes Junior, who were arrested during the coup, were released over the weekend and flown to Ivory Coast.
Mr Gomes was the only candidate in the second round of presidential elections scheduled for 29 April, called after the death in January of President Malam Bacai Sanha following a long illness.
Opposition candidate Kumba Yala pulled out of the poll, claiming fraud.
No elected leader in nearly 40 years of independence has finished their time in office in Guinea-Bissau.
The tiny West African state is one of the poorest in the world - with almost 70% of people living in poverty - and is heavily dependent on foreign assistance.
It has become a major staging post for gangs smuggling cocaine from Latin America to Europe - and several senior military figures have been accused of involvement.