Sudan detains foreigners in disputed area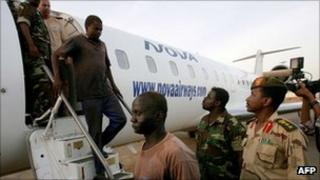 Sudanese officials say four foreigners have been detained in the sensitive Heglig oilfield area, scene of recent fighting with South Sudanese forces.
The four - from the UK, Norway, South Africa and South Sudan - were in an armoured vehicle and engaged in "suspicious activities", they said.
The group was flown to the Sudanese capital for "further investigations".
Sudanese TV said the men are suspected of aiding South Sudan, a charge rejected by a Southern official.
"That is rubbish and just a lie," said Philip Aguer, South Sudan army spokesman, quoted by Reuters news agency.
A United Nations spokesman in South Sudan told the agency that a staff member was among the group taken to Khartoum.
An official with Norwegian People's Aid said one of its members was also in the group.
Mechem, a South African de-mining company told Reuters news agency that two of its employees, a South African and a South Sudanese, were among those arrested.
"We are working on a UN de-mining contract and our employees have full UN immunity," Mechem's chief executive, Ashley Williams, said in a statement emailed to Reuters.
'Military backgrounds'
"We captured them inside Sudan's borders, in the Heglig area, and they were collecting war debris for investigation," Sudan army spokesman Sawarmi Khaled Saad said at Khartoum airport.
All four had military backgrounds, he added.
The men, who were not further identified, were paraded before the press but not allowed to talk.
One man was wearing the T-shirt of a Norwegian non-governmental organisation, while another wore one with the logo of a South African de-mining group.
The British embassy in Khartoum said it was in contact with the Sudanese authorities and was looking into the matter.
South Sudan's ambassador told the BBC he was checking with his government.
The BBC's James Copnall in Khartoum says the arrests underline the continuing tensions between Sudan and South Sudan.
Clashes began in April when the Heglig oilfield was occupied by forces from South Sudan.
They left about a week ago, after holding the area for 10 days.
Our correspondent says tension is still extremely high, and Sudan has been accused of carrying out a number of air raids on South Sudan this week. It denies the charges.
South Sudan became independent from Sudan after a civil war that lasted two decades and in which an estimated 1.5 million people were killed.