Libya bans religious political parties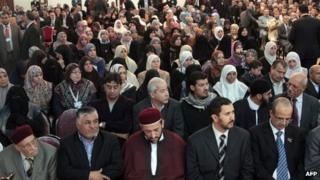 Libyan authorities have banned the formation of political parties based on religious principles ahead of elections scheduled to take place in June.
Parties based on faith, tribe or ethnicity will not be eligible to take part, a government spokesman said.
The National Transitional Council said the law, passed on Tuesday, was designed to preserve "national unity".
But analysts say it is likely to infuriate religious parties such as the Muslim Brotherhood.
"Parties are not allowed to be based on religion or ethnicity or tribe," National Transitional Council spokesman Mohammed al-Harizy told Reuters.
He did not clarify how this would affect a political party formed in March by Libya's Muslim Brotherhood and other Islamists.
The party is Libya's most organised political group and was expected to emerge as an influential player in the country where Islamists, like all dissidents, were harshly suppressed for 42 years.
The head of the Brotherhood's Freedom and Development Party said the NTC needed to make it clearer what it meant by banning religious parties.
"This kind of clause is only useful in countries where there exists many religions, not in Libya where most people are religious Muslims," Mohammed Sawan told Reuters.
He said the law needed to be reviewed, "and if it's not changed, we would have to protest [against] it".
June's polls will be the first since last year's overthrow of Col Muammar Gaddafi in a Nato-backed uprising.
He was killed by Libyan rebels in October after eight months of fighting.