Swaziland's King Mswati III given jet by 'sponsors'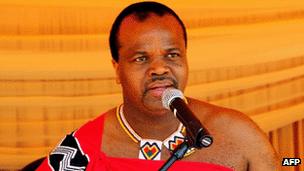 King Mswati III of Swaziland has received a luxury jet as a gift from "anonymous sponsors", a government spokesperson has confirmed to the BBC.
The DC-9 twin-engine aircraft is for the use of the king and his 13 wives, Percy Simelane said.
Swazi's banned opposition party says taxpayer money must have been used to buy it, but Mr Simelane denies this.
In 2002, the king tried to use public funds to purchase a jet, but the sale was halted after street protests.
King Mswati is rated by Forbes magazine as the world's 15th richest monarch with a personal fortune of $100m (£62m) - while many of his 1.2 million subjects live in poverty.
He is widely accused of profligate spending, although he cancelled his silver jubilee celebrations last year because of the tiny kingdom's cash crisis.
The plane arrived in Swaziland on Tuesday, the gift of "development partners and friends of the king" who wished to remain anonymous, Mr Simelane told the BBC's Focus on Africa programme.
"It is normal in this part of the world not to want to be mentioned when giving gifts," he said.
He denied media reports that the gift was a birthday present for the king, who turned 44 on 19 April when ordinary Swazis, through local chiefs, were asked to donate cows to be slaughtered for a mass feast to celebrate the event.
According to Mr Simelane, the development partners are "people already involved in the social and economic development of the country".
The Swaziland Diaspora Platform, a human rights group based in neighbouring South Africa, has rejected the government's explanation for the jet, demanding full details of the donors and the value of the jet.
"No development partner would want to be anonymous, by their nature development agencies are transparent," spokeswoman Ntombenhle Khathwane told AFP news agency.
When asked by the BBC whether given Swaziland's financial crisis King Mswati should have refused the gift and asked for the value of the jet to be given instead to the Swazi people, Mr Simelane said: "The English say, 'You don't look a gift horse in the mouth.'"
Swaziland's current economic crisis has sparked protests and demands for more democracy in Africa's last absolute monarchy, where all political parties are banned.
The country has one of the highest HIV/Aids rates in the world.
Related Internet Links
The BBC is not responsible for the content of external sites.