Mali kidnap: Swiss woman freed in Timbuktu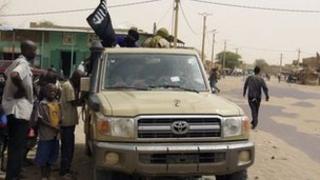 A Swiss woman abducted in the rebel-held north Malian town of Timbuktu more than a week ago is free, officials say.
The woman, a Christian missionary in her 40s, was handed over to a Swiss official by the group holding her, the Swiss foreign ministry said.
She was taken from her house by armed men soon after Timbuktu fell to separatist and Islamist rebels.
On Sunday, the Islamist group Ansar Dine said she was in its custody and that it wanted to free her.
In a statement, the Swiss foreign ministry said the woman had been taken to safety, and that she was in good health, "considering the circumstances".
It also thanked the authorities in Mali and Burkina Faso for their help in securing the woman's release.
The ministry declined to give her personal details, citing data protection laws, but news agency reports have named her as Beatrice Stockly.
Eyewitnesses said that after the handover she boarded a helicopter that flew her to Burkina Faso.
Secular Tuareg rebels, along with Ansar Dine, completed a takeover of Timbuktu and the rest of northern Mali earlier this month after mutinous troops had overthrown President Amadou Toumani Toure in a coup, throwing the country into chaos.
Most foreigners fled Timbuktu at the time.
Facing sanctions from regional body Ecowas and unable to contain the rebellion in the north, the coup leaders later agreed to hand over power to civilian rule.
Since 2009, Switzerland has advised against travel to Mali, citing the risk of kidnap. After last month's coup, it advised all Swiss nationals in Mali to leave the country temporarily.