South Sudan border town Bentiu bombed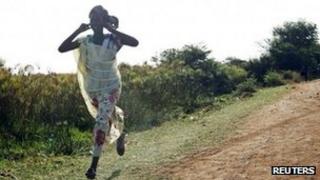 Several bombs have been dropped on the South Sudanese border town of Bentiu, amid fears of all-out war with Sudan.
International journalists saw at least two planes drop bombs and a huge plume of smoke rising from a market, where they saw the body of a young boy.
A top South Sudanese military official described the bombing as a "serious escalation" and a "provocation".
It follows weeks of clashes along the border between South Sudan and its northern neighbour.
There was no immediate comment from Sudan's military, but it has always denied carrying out aerial bombardments on South Sudan in the past.
On Sunday, both countries confirmed there was ground fighting in the disputed border region.
Troops massing
Those clashes took place south of Heglig, the oil field which has been at the centre of the recent crisis.
Nearly two weeks ago South Sudanese troops seized control, inflicting a serious military and economic blow to Sudan.
On Friday, the South said it was withdrawing its soldiers following intense international pressure, although Sudan said it had forced them out.
Access to the disputed border region around Heglig is limited, making it difficult to verify what is happening in the area.
The BBC's James Copnall, who is in Bentiu, says it had been hoped that the withdrawal from Heglig would reduce tension but the latest fighting, and aerial bombardments, make it clear this has not happened.
The air raid's main target seems to have been the bridge which provides access to the nearby border region, he says.
The local state governor told the BBC that, as well as the death of the young boy, three people had been critically wounded when a bomb fell on the market.
Witnesses saw several market stalls on fire. The same area was hit just a week ago.
Our correspondent says South Sudan is building up its troops near the border, and is assuming that Sudan is doing the same.
Satellite pictures released over the weekend appear to show that significant parts of the Heglig oil field are no longer operating following the recent fighting.
They were analysed by the US-funded Satellite Sentinel Project (SSP) , which says it is impossible to know who was responsible for the damage.
US President Barack Obama and the African Union have called on both sides to resume peace talks.
South Sudan seceded last July as part of a peace deal following two decades of war, which left some 1.5 million people dead.
It took some 75% of the united Sudan's oil with it but all the oil pipelines lead north and the two successor states have not been able to agree on the level of transit fees which the South should pay to use Sudan's pipelines.