Mali: Timbuktu refugee influx to Mauritania, says MSF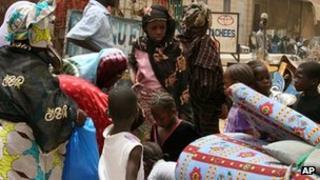 There has been more than a seven-fold increase in the number of Malians fleeing to Mauritania, the aid group Medecins Sans Frontieres has said.
In the last fortnight, the number has increased from 200 to 1,500 a day - many of them from Timbuktu, MSF said.
It blamed the surge on fighting after rebels seized the north of the country in the wake of last month's coup.
Meanwhile, Mali's ruling military released the senior officials it had arrested earlier in the week.
Although the junta handed over to a civilian leader last week, it arrested several close allies of ousted President Amadou Toumani Toure in the following days.
The 22 senior political and army officials have now been released, according to officials from the junta.
Correspondents say there are concerns that the arrests show the military has no intention of leaving politics.
Mr Toure himself left the capital Bamako for Dakar in Senegal on Thursday evening, according to reports.
'Fear and panic'
Last month's uprising caused chaos in Mali, with Tuareg rebels and their Islamist allies exploiting it to take control of a large section of the north.
"The presence of armed groups and political uncertainty in Mali is generating fear and panic among the people," Elisabetta Maria Faga, MSF's field co-ordinator said in a statement.
Most of those arriving in Mauritania were Tuareg families from the Timbuktu region, MSF said.
Many of the refugees have serious health problems, and the nearest hospital was a six-hour drive away from the Mbera refugee camp, the aid agency said.
Earlier, UN Secretary-General Ban Ki-moon called on the junta to "promptly complete the full transfer of power to civilian rule".
On state television the head of the paramilitary police, Col Diamou Keita, defended the arrests of recent days, saying 22 people had been detained in connection with the discovery of an arms cache.
Mali's new interim leaders, President Dioncounda Traore and Prime Minister Cheick Modibo Diarra, have the task of organising elections and ending the northern rebellion.
The Tuaregs have declared independence for the northern region - a move resisted by the civilian and military authorities in Bamako, as well as the Islamist group Ansar Dine, which is said to have links to al-Qaeda in the Islamic Maghreb.