DR Congo Finance Minister Matata Ponyo to be new PM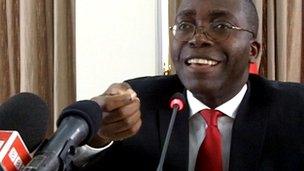 The President of the Democratic Republic of Congo, Joseph Kabila, has appointed Finance Minister Augustin Matata Ponyo as his new prime minister.
Mr Matata is a respected financial expert credited with stabilising the country's economy.
The appointment ends five months of deadlock after polls criticised for widespread irregularities.
The country has been run by a temporary administration after Mr Kabila and his party was returned to power.
The opposition leader Etienne Tshisekedi disputed the election results and at first declared himself president.
Mr Matata's first job will be to draw up a budget for the government.
Since becoming finance minister in 2010 he has attracted praise from the International Monetary Fund for stabilising the country's economy.
He ran a $12bn (£7.4bn) debt reduction agreement with international creditors, which was seen as the main achievement of President Kabila's first term in office.
But the introduction of a value-added tax earlier this year created a spike in inflation that sparked criticism inside the country.
Analysts say securing the mineral-rich east of the country is also important for the economy - militias still roam the area despite attempts by the UN and army to disarm them.
News of the prime minister's appointment came as fighting between rebel groups and government forces intensified around a cluster of villages where there were a wave of mass rapes two years ago.
Military sources quoted by the UN-sponsored station Radio Okapi say 15 fighters from a Mai-Mai militia group and 12 government soldiers have been killed over the last week in and around the village of Luvungi, abuot 100km (62 miles) north-west of Goma city.
The military command in Goma and the UN peacekeeping mission say they have sent in reinforcements.
Police were deployed to Luvungi to maintain order after more than 300 people were raped there in 2010 by a coalition of armed groups.
But since a series of mutinies in the army earlier this month, several militia have been taking advantage of the confusion to gain territory, including in this area of North Kivu province, the BBC's Thomas Hubert reports from Kinshasa.
In addition to routine deadly attacks on isolated traders and vehicles, the first few months of 2012 have seen a steady increase in the number of larger-scale clashes, each of them causing multiple deaths and displacing thousands of people, our reporter says.
Related Internet Links
The BBC is not responsible for the content of external sites.