Mali coup: Army arrests ex-President Amadou Toure allies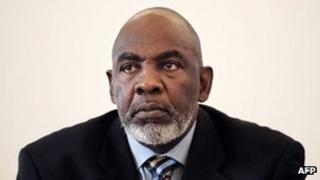 Soldiers have arrested several allies of Mali's ousted President Amadou Toumani Toure days after handing power to a civilian leader, witnesses say.
Former Prime Minister Modi Sidibe was picked up by men in military police vehicles, an aide said.
The arrests came as rocket scientist-turned-politician Cheick Modibo Diarra was named as prime minister.
Bamako-based journalist Martin Vogl says the arrests suggest Mali's interim leader does not have total authority.
Ex-Defence Minister Sadio Gassama, chief of staff Gen Hamidou Sissoko, senior policeman Mahamadou Diagouraga, and the head of one of Mali's biggest political parties, Soumaila Cisse, have also been arrested, according to aides.
An MP from Mr Cisse's URD party said that he had been wounded during his arrest but could not say how serious the injury is. Mr Cisse was seen as a frontrunner in elections which, until the coup, were due in April.
All those arrested have reportedly been taken to Kati, the junta headquarters just outside the capital, Bamako.
Dioncounda Traore - sworn in as interim president last week - has refused to comment on the arrests - while the European Union delegation in Mali has called for "an urgent clarification and their immediate release".
Rocket scientist
People in Mali are very worried about the uncertainty created by the arrests - particularly because it appears that soldiers are still playing a major role in Mali's politics, journalist Martin Vogl says.
The junta also had a hand in the appointment of Mr Diarra as prime minister, negotiating with West African Ecowas mediators over those on the shortlist, he says.
Mr Diarra is a relative newcomer to politics - prior to last month's coup, he was to run for president for the first time.
Before turning to politics, the 60-year-old astrophysicist worked for the US Nasa space programme and is the chairman for Microsoft Africa.
Mr Sidibe, who served as Mr Toure's prime minister from 2007 to 2011, was first arrested shortly after the coup and later released.
Regional bloc Ecowas, the EU and the United States want to see the junta back in their barracks and out of politics as soon as possible.
After Ecowas imposed sanctions, the coup leaders agreed to step aside.
Mr Toure, who is thought to be still in Mali, also agreed to resign - he was due to stand down in April after two terms as president.
Mr Traore is tasked with organising elections and ending a rebellion in the north.
Since the coup, ethnic Tuareg and Islamist militants have taken control of much of the northern desert region.
The Tuaregs have declared independence for the region - a move resisted by the civilian and military authorities in Bamako, as well as the Islamist group Ansar Dine, which is said to have links to al-Qaeda's North-West African franchise, al-Qaeda in the Islamic Maghreb.
On Sunday, unknown gunmen reportedly seized a Swiss woman from the historic northern town of Timbuktu, which is under rebel control.