Swiss woman abducted by gunmen in northern Mali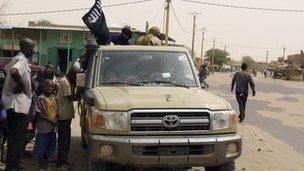 A Swiss woman has been abducted in the rebel-held northern Malian city of Timbuktu, officials and residents say.
The woman, a Christian missionary in her 40s called Beatrice, was taken from her house by armed men, residents said.
Most foreigners fled Timbuktu after Tuareg and Islamist rebels seized the town early this month in the aftermath of a military coup.
The kidnap comes amid concern the area could offer a safe haven to an al-Qaeda branch operating in the country.
Al-Qaeda in the Islamic Maghreb (Aqim), the network's North African wing, has links to the Islamist rebels. The group is already holding 13 Westerners.
"Beatrice, a Swiss national, was abducted this Sunday at Timbuktu by armed men," local official Mohamed Ould Hassen told AFP.
One resident of the town told the news agency that they saw six armed men take the woman.
"They shouted 'Allah Akbar' [God is great]," the resident added.
The Swiss foreign ministry has confirmed the abduction. It said Swiss officials are working with the Malian authorities on the case.
Since 2009, Switzerland has advised against travel to Mali, citing the risk of kidnap. After the coup that toppled the Malian president last month, it advised all Swiss nationals in Mali to leave the country temporarily.
Sources cited by Reuters said the woman, who stayed in the Abaradjou neighbourhood, had lived in Timbuktu for some years and knew several local languages.
Islamist group Ansar Dine and secular Tuareg rebels seized territory in the north of the country after Mali was plunged into political crisis when President Amadou Toumani Toure was overthrown in a coup.
After facing sanctions from regional body Ecowas and being unable to control the rebellion in the north, coup leaders in Banako later agreed to hand over power to civilian rule.
Related Internet Links
The BBC is not responsible for the content of external sites.