Jacob Zuma to wed for sixth time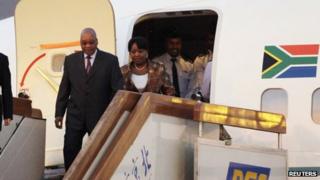 South Africa's President Jacob Zuma will marry for the sixth time next weekend, making long-term fiancee Gloria Bongi Ngema his fourth current wife, his spokesman says.
Mr Zuma is a Zulu traditionalist, and polygamy is legal in South Africa.
His spokesman, Mac Maharaj, said the private ceremony would take place in Nkandla in KwaZulu Natal province.
Mr Zuma usually takes one wife with him on official events, on a rotating basis.
The marriage will be his sixth, but he is divorced from one wife and another took her own life in 2000.
The BBC's Southern Africa correspondent, Karen Allen, says Ms Ngema - a businesswoman from Durban - is already a familiar figure at the president's side.
Mr Zuma, who became president in 2009, recently celebrated his 70th birthday and has 21 children.
A statement on the president's website said there would be no cost to the government for next weekend's ceremony, nor did the state pay for the maintenance of the four spouses' households.
Mr Zuma was acquitted of rape charges in 2006, though he admitted having unprotected sex with the woman, who was HIV-positive, showering afterwards in the belief that this would reduce the chance of infection.
In 2009 he fathered a child out of wedlock with the daughter of a senior football official.