Sudan accuses South Sudan of attacking oil field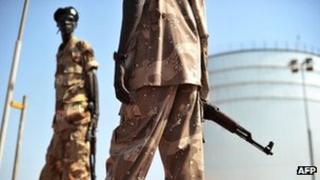 Sudan has accused South Sudan of attacking its oil fields along the border between the countries.
A government statement, which described the offensive as "severe", came after South Sudan said it had been hit by more air strikes inside its territory.
South Sudan's military spokesman said there was also a ground incursion, which was repulsed.
Such clashes erupted two weeks ago, the most serious since South Sudan became independent in July last year.
The countries fought a long civil war before South Sudan seceded, taking most of the oil fields although it has to export the oil using pipelines through ports in Khartoum's territory.
In January, South Sudan, which depends on oil sales for 98% of its revenue, shut down all of its oil fields in a row over the fees Sudan demands to transit the oil.
Each side blames the other for starting the recent fighting along the undemarcated and disputed frontier in the oil-producing Heglig area.
A brief statement from Sudan's ministry of information said its Heglig oil fields were deliberately targeted in the attack.
Villagers 'injured'
South Sudan's military spokesman, Philip Aguer, told the BBC the army had repulsed Sudan's soldiers all the way to Heglig in response to earlier attacks from the air and the ground inside South Sudan.
But he did not confirm whether the southern army had attacked oil installations inside Sudan.
According to South Sudan's information minister, four civilians, including a child, were wounded earlier when the village of Abiemnom was attacked by Sudanese planes in Unity state, about 40km (25 miles) south of the border with Sudan.
Two Sudan army brigades had also been advancing towards its oil fields in Unity state, backed by militias loyal to Khartoum, he said.
The BBC's James Copnall in Sudan's capital, Khartoum, says the violence will further poison an already very poor relationship.
A presidential summit, which was to have been held in South Sudan's capital, Juba, at the beginning of April, has been postponed indefinitely because of the recent fighting.
African Union mediator Thabo Mbeki held talks late last week with South Sudan's President Salva Kiir and his Sudanese counterpart, Omar al-Bashir, amid international fears of a return to full-blown conflict.
Meanwhile, an international weapons monitoring group, Small Arms Survey, has said it has gathered enough evidence to show that both South Sudan and Sudan are providing arms to rebels and militia groups in each other's territory.
Both sides have often made and denied such claims of support.