Bosco Ntaganda: Congo's 'Terminator' troops defect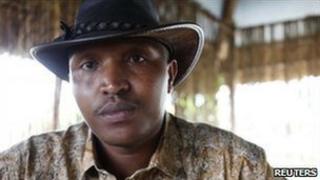 Hundreds of Congolese troops have defected from the army, diplomats have told the BBC.
They are loyal to ex-rebel leader Bosco Ntaganda, who is wanted for war crimes by the International Criminal Court.
The situation in the city of Goma, in the east of the Democractic Republic of Congo, where the soldiers were based, is said to be tense.
Last week, Belgium called for the DR Congo government to arrest Mr Ntaganda, who is also known as "The Terminator".
The ICC says Mr Ntaganda is alleged to have been involved in the forced recruitment of children, murder and rape.
Gen Ntaganda integrated his forces into the Congolese army in 2009.
The diplomats say that he has not defected himself.
'Panic in Goma'
Last week, Belgian Foreign Affairs Minister Didier Reynders is said to have told DR Congo President Joseph Kabila that his credibility was being affected by his failure to arrest Gen Ntaganda.
He is now reported to have left the Goma area, taking with him heavily armed soldiers. Some reports put the number of defectors as high as 600. They are reported to have taken vehicles, weapons and ammunition.
Reports from Goma say there was panic in the city immediately after the defections earlier this week, although the situation is now said to be calm.
BBC Africa analyst Martin Plaut says the implication of the defections is clear: If attempts are made to arrest General Ntaganda, there will be trouble.
A Congolese army spokesman said that any act of indiscipline would be punished.
Anneke van Woudenberg of Human Rights Watch, who has been monitoring the general's career, told the BBC: "He is now threatening to rebel.
"I think it shows clearly he's not a man of peace but a man who needs to be arrested and brought to court," she said.