Libya refuses to surrender Gaddafi's son to ICC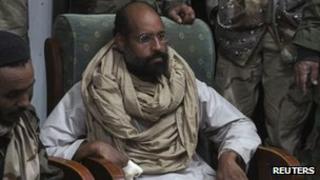 Libya has rejected a request to hand over Saif al-Islam Gaddafi to the International Criminal Court.
It insists that Saif al-Islam, the late ousted leader Muammar Gaddafi's son, will be tried in Libya.
It follows an ICC ruling on Wednesday that Libya must make arrangements to hand Saif al-Islam to the Hague court.
Saif al-Islam is wanted by the ICC in connection with the violent suppression of protests during last year's Libyan uprising.
However, Libya's governing National Transitional Council wants to try him in the country.
'International justice'
A special prison and court was being built in preparation for the 39-year-old's trial, a government spokesman said.
He did not say when the trial would happen.
Saif al-Islam is currently being held by a militia from the town of Zintan at a secret location.
Human Rights Groups have complained that he has not been allowed access to a lawyer - a right set out in international law.
The ICC issued an arrest warrant for Saif al-Islam, as well as his father and the former intelligence chief, Abdullah al-Senussi, in June.
Mr Senussi was arrested last month in Mauritania and Libya is also keen to try him at home.
But the ICC says a UN Security Council resolution obliges Libya to co-operate with the court and hand the men over to international justice.