Thailand's film censor bans 'divisive' Macbeth film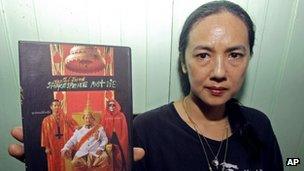 Censors in Thailand have banned a film based on Shakespeare's tragedy Macbeth, saying it is "divisive".
Shakespeare Must Die is a Thai-language adaptation of the play in which an ambitious Scottish general murders the king and kills again to hold on to his throne.
The film's director, Ing Kanjanavanit, told the BBC the ban was ridiculous.
"Very few films are banned here," she said. "It is amazing they would find a poet dead 400 years such a threat."
She said Thailand's people were "living in a climate of fear".
The story's themes of greed and power appear to have unnerved officials in a country polarised in 2006 by a coup that removed the Prime Minister, Thaksin Shinawatra, from office.
Though the film is set in a fictional country, it uses news footage of Thai political protests.
And in another device that has angered the authorities, the colour red is a prominent symbol.
While this is true to Shakespeare's text, red was also the colour used by anti-government demonstrators, most of them Thaksin supporters, whose protests, and their suppression, led to the deaths of 91 people.
The Thai government at the time - led by opponents of Mr Thaksin - granted funding for the film.
But it was submitted to the censors under a new administration, led by Yingluck Shinawatra, Thaksin Shinawatra's sister, whose party came to power in elections last July.
In its reasons for banning the film the country's censor says it "has content that causes divisiveness among the people of the nation."
Criticism of the monarchy in Thailand can result in a 15-year jail sentence.