ANC Julius Malema banned for calling Zuma a 'dictator'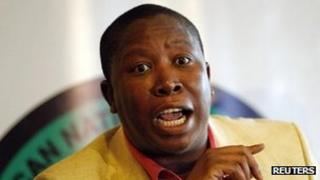 South Africa's ruling African National Congress (ANC) has banned its firebrand youth leader Julius Malema from all party activities.
Mr Malema last week called his former ally President Jacob Zuma a "dictator".
The ANC's disciplinary panel said in a statement his comments seriously violated the party's constitution.
Mr Malema was expelled from the ANC last month - but he has been allowed to keep his post and speak at rallies until the appeals process is finished.
On Tuesday, the six most senior leaders of the ANC in South Africa condemned Mr Malema's "alien behaviour".
A joint statement said Mr Malema was trying to divide the party and accused him of spreading falsehoods.
In the statement read out by Gwede Mantashe, the secretary-general of the ANC, the leaders said the ANC "was not a leadership of dwarfs around a dictator".
He also said the "bickering has to stop" - a move correspondents say is a public show of unity before the ANC's leadership contest in December.
Mr Malema's appeal against expulsion from the ANC will be heard next week.
He was found guilty of fomenting divisions and bringing the party into disrepute.