Kenya: 'Residents trapped' in Nairobi slum landslide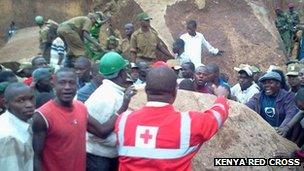 A landslide has killed at least six people and trapped others in a slum in the Kenyan capital Nairobi, officials say.
Huge boulders reportedly crashed into houses in the Mathare area at dawn, following torrential rain.
Several people are still thought to be buried under the rubble, residents say.
At least four people have been pulled out alive, but the rescue operation is being hampered by rain and mud, the Kenya Red Cross says.
Earlier, police spokesman Matthew Iteere said four people had died; several hours afterwards the Kenya Red Cross said another two bodies had been retrieved.
A Red Cross official said more than 40 houses were destroyed by the landslide, the AFP news agency reports.
"The main challenge at the moment is accessibility thus the appropriate machinery for rescue cannot access the scene of the tragedy. At the moment rescuers are using hoes and axes in the rescue efforts," the Kenya Red Cross said in a statement.
Another police official, Aphiod Nyagah, said he could hear trapped victims calling for help, but that it would be difficult to rescue them.
"There is no road to lead the emergency teams here. People are trapped and the vehicles cannot access the scene. We have to demolish some houses to enable the teams here," he told the Standard newspaper by phone.
Related Internet Links
The BBC is not responsible for the content of external sites.