South Africa: Fibreglass rhino dehorned by thief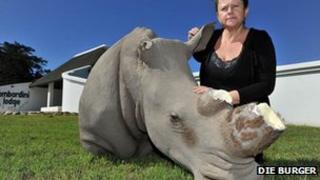 A thief in South Africa has cut the horn off a fibreglass rhino during a burglary at a game reserve lodge.
The sculpture was of the first rhino to arrive at Lombardini Game Farm, which runs intensive breeding programmes for rhinos, buffalo and sable.
"I was angry at the time, but it was also funny," the reserve's owner, Susan Lottering, told the BBC of the theft.
She said the 15 live white rhinos on the farm have already been dehorned because of fears of poaching.
South Africa has become the focal point of the rhino trade because it has between 70% and 80% of the global population - about 20,000 animals.
'Proud of her'
The fibreglass model, named Barendina, was hanging over a fireplace in the lodge at Lombardini Game Farm in the Eastern Cape, which was broken into on Monday morning.
"We found it outside on the sidewalk with its horn cut off - the burglar was looking for money and they didn't find any money so I suppose their eye caught [sight of] the rhino," Ms Lottering said.
"It was a mould of the first rhino that arrived on the farm so there's a bit of history behind her and we were very proud of her," she said.
"She died of natural causes quite a few years ago, about eight years ago."
Police are investigating and have been to the farm, between Jeffreys Bay and Humansdorp, to take fingerprints and photos, she said.
The number of rhinos killed in South Africa has soared in recent years to meet the demand for their horns in Asian traditional medicine, especially in China and Vietnam, where they are thought to have powerful healing properties.
But scientists say rhino horns are made from the same material as fingernails and have no proven medicinal properties.
The black market price of rhino horn is now in the region of £35,000 ($55,000) per kg.