Sudan and South Sudan hold talks in Addis Ababa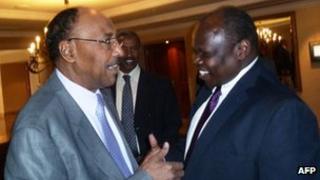 Officials from Sudan and South Sudan have met for talks in Addis Ababa for the first time since heavy fighting broke out last week.
The two countries are in dispute over the oil-rich regions on their border.
Senior ministers and generals from each side met behind closed doors, with African Union negotiators waiting outside initially, the BBC understands.
The clashes are the most serious since South Sudan seceded from Sudan last year.
The BBC's James Copnall, who is in the Sudanese capital Khartoum, says these negotiations are about security, with the focus on reducing the immediate tension.
Sudan's Defence Minister Abdel-Rahim Mohamed Hussein emerged from the talks with his South Sudan counterpart John Kong Nyuon, saying it had been a "good meeting".
South Sudan's Information Minister Barnaba Marial Benjamin told reporters that they were "determined to ensure a return to war is avoided", but accused Khartoum of continuing to bomb border areas.
South Sudan says it now controls Teshwin in the Heglig region, on the disputed border, where Sudan had set up a military base.
Sudan sees this as an infringement of its sovereignty, but a military spokesman for South Sudan said his country's troops were responding to an attack on their positions.
Teshwin is one of several sites within South Sudan's territory previously occupied by Sudan, according to the spokesman.
The recent fighting has led to Khartoum calling off a presidential summit which was due to be held in South Sudan on Tuesday.