Uganda's nodding disease: 'I've lost hope'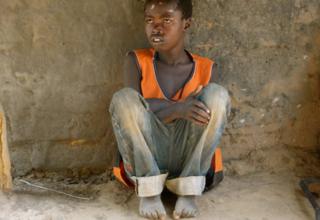 In the north of Uganda, thousands of children have fallen ill with a fatal, incurable disease known as nodding disease. Communities are starting to panic and some people are losing hope as the medical community struggles to either find a cause or a cure, as the BBC's Will Ross reports.
Driving through villages of Uganda's northern Kitgum district it is staggering how many families have been affected by the debilitating nodding syndrome.
In Tumangu village it is like a plague.
Francis Anywar sits in front of the grass thatched home. The 15-year-old is naked and appears to be in another world - never speaking.
The scars on his head point to the violent seizures that strike several times a day. Francis's health started deteriorating eight years ago and both his physical and mental development have steadily been eroded.
Tied to a tree
A few hundred metres further down the dirt road a mother tells me something I will never forget.
"I've lost hope. I'm just taking care of Sarah and Moses like flowers in the home knowing they are of no use in the future," Betty Olana says.
Because of the neurological syndrome, her 14-year-old daughter and 12-year-old son look much younger and need round-the-clock care. They cannot wash themselves or get dressed without help.
"When I go off to farm I tie them to the tree so they don't get injured.
"If they walk off they don't know where they are going they just keep walking and get lost."
One nurse told me that when the children develop psychosis and wander off into the bush they often do not return home. She said hunger can then kill them and mentioned incidents of dogs carrying the bodies of dead children back to a village.
When Ms Olana brings out a tray of millet porridge and stew, Sarah and Moses wash their hands and tuck in. But within minutes Moses's head starts to drop, his eyes close and as if in a trance he appears to be drifting off into another world.
Food, heat and cold weather are the triggers.
There are more than 3,000 reported cases in northern Uganda and the government has now set up.
However, due to deep poverty, many families cannot afford to pay for the transport.
Others like Ms Olana have simply given up on their children.
Ojok Samuel sits at the clinic staring into space. He is nine but looks three or four.
"He started nodding his head at the age of two whenever we gave him food," his father John Oboda says, adding that the stress on the family has affected his own health.
Unable to farm, because he always has to care for the children, the family is slipping deeper and deeper into poverty.
Stigma
He has also brought his 10-year-old daughter Jaqueline Amony who now suffers regular seizures, which have affected her mental ability.
Neither of these children are going to school and most worrying for Ojok is that they have not shown any sign of improvement since beginning medication to control seizures a year ago.
There is also stigma.
"Neighbours don't allow their children to interact with Samuel and Jaqueline. Our family is now isolated."
I am told some motorbike taxis have been refusing to carry affected children.
Cases were seen in Tanzania back in the 1960s and in recent years in South Sudan. Despite its devastating impact, health officials have been left baffled as they try to find the cause and the cure.
Some of the symptoms are similar to epilepsy and health workers prescribe the anti-convulsant medicine carbamazepine, which is used to manage epileptic seizures.
In northern Uganda they have just started trying out a new drug, sodium valproate, which is also used to treat epilepsy. The medical staff point out that when brought to hospital and given the medication some children improve and suffer less frequent seizures.
But, sadly, by this stage the damage to the child's development has already been done and cannot be reversed.
In November 2009, the Ugandan government requested help from the US-based Centers For Disease Control and Prevention. CDC experts have visited the affected area and taken away samples to test but they are struggling to find the underlying cause.
"The CDC teams documented for the first time that Nodding Syndrome is a novel complex epilepsy syndrome, and that the head nodding was a direct manifestation of seizures that cause a brief lapse in muscle tone due to alterations in brain function," the public health organisation says.
"Children living under the poorest conditions where there is not enough food, pure water, or decent housing seem most susceptible to this condition."
The last time I was in Kitgum hospital in 2004 it was a nightly refuge for thousands of children who could not sleep at home for fear of abduction by the Lord's Resistance Army rebels.
Northern Uganda is now peaceful but the families and health workers tell me that they feel like they are fighting a new war.
"We are getting stressed dealing with this traumatic situation. You see new cases every day - children having fits, others falling down. As a human being you feel the pain," says Adong Josephine, a psychiatric nurse in Kitgum hospital.
"Even me I have started to develop stress on seeing these patients. You don't know what really causes the problem," Ms Josephine says.
"You put yourself into the shoes of these parents. Supposing these were my children; what if the problem comes to my family; where will I be? Where will I go?"
"So many have died and others are still at the critical stages of dying because when you look at them - some are too wasted unable to eat unable to walk. If they are not brought to the hospital they are most likely to die in some days to come," she adds.
On the ward are two badly burnt children. The cooking fire at home is a death trap for the affected children because when a seizure strikes they are unable to move away from the flames.
Outside at the screening centre 13-year-old Augustin Oola goes into spasms as a nurse tries to get him to stand up. He only appears moderately comfortable when he is allowed to flop on the floor where he sits silently.
With no known cause or cure speculation is rife.
"It could be an effect of the war. There were many deaths around this area - many people were killed. So maybe it is their spirit which is making these children sick," suggests Ms Olana, whose home is in an area the LRA rebels used as a base.
"We see many people coming now to try to investigate. So we have a little bit of hope. We are praying that these children will be cured."