African Union voices concern at Sudan border clashes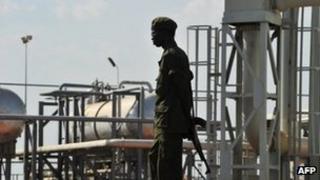 The African Union has expressed deep concern at the recent outbreak of fighting between Sudan and South Sudan.
Following two days of clashes, AU chief Jean Ping urged the two countries to respect a commitment to withdraw their forces to 10km from their border.
Unconfirmed reports say fighting on the ground has stopped, but that Sudan carried out air strikes on South Sudanese territory overnight.
The countries fought a long civil war before the South seceded from Sudan.
The violence, which began on Monday, centres on the major oil field of Heglig and the South Sudanese state of Unity.
Gideon Gatpan, the information minister for Unity, said on Wednesday that Sudanese planes had bombed an area 35km from the state capital, Bentiu, in the night, but had halted all ground assaults.
Sudan has postponed a planned visit next week by President Omar al-Bashir to South Sudan, where he was to attend a summit with his counterpart, Salva Kiir.
But officials from the two countries are expected to meet in the Ethiopian capital later this week for talks aimed at easing tensions.
'Restraint'
In astatementissued on Wednesday, AU Commission chairman Jean Ping voiced "very deep concern the escalating security situation along the border".
"Military means will never provide a long‐term to answer to the bilateral issues affecting the relations between the two countries," the statement said.
"Any disputes over border territories can be resolved only through peaceful means."
The UN Security Council and the EU also expressed deep alarm at the violence on Tuesday.
Border dispute
The Heglig oil field is claimed by South Sudan, but Khartoum says it is located in its territory.
When South Sudan gained independence, it took most of the oil fields, but has to export the oil using pipelines through ports in Khartoum's territory.
In January, South Sudan, which depends on oil sales for 98% of its revenue, shut down all of its oil fields in a row over the fees Sudan demands to transit the oil.
Parts of the countries' common border also remain in dispute.
In February, the two states agreed to demarcate most of the border within three months, although this would exclude five disputed areas.