DR Congo planes to be destroyed by Fly Congo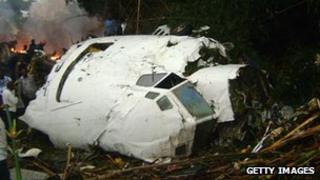 A Congolese airline is to destroy six planes in a bid to restore confidence in the country's aviation industry.
Fly Congo has been formed from Hewa Bora Airways, which was put on aEuropean Union airline blacklistafter a crash in July 2011 killed 74 people.
Its chief executive, Jean-Marc Pajot, told the Associated Press five Boeing-727s and one of another type of plane would be destroyed.
He said he would have a "well maintained" fleet of modern aircraft.
Last year's Hewa Bora crash happened in a storm as the plane attempted to land at Kisangani airport in eastern DR Congo.
Mr Pajot told the BBC: "We have a fleet of aircraft that has not flown for quite a long time. So the first decision for the six aircraft I am talking about is that we decided to destroy that fleet completely.
"Next month we will start to destroy the fleet and to recycle that fleet in metal."
Mr Pajot said the planes would be destroyed from next month.
Hewa Bora was a private Congolese airline that ran scheduled flights from Kinshasa to the central city of Kisangani and other destinations.
The firm had its licence revoked in the wake of the crash.
The airline had previously been involved in a number of incidents of concern, including a 2008 crash when a DC-9 crashed on take-off in the Congolese town of Goma which killed 40 people, most of whom were on the ground.