Libyan militias clash in city of Sabha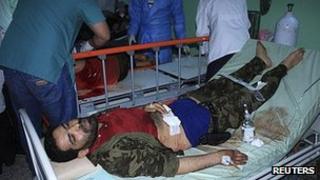 Clashes between rival militias in the southern Libyan city of Sabha have left more than 30 dead, officials say.
Fighting between former rebels and gunmen from the Toubou group reportedly began on Sunday after a militiaman from Sabha was killed in a row over a car.
Government forces have arrived in the city and are trying to restore calm.
Libya's governing National Transitional Council (NTC) is struggling to assert its authority following the ousting of Col Muammar Gaddafi last year.
Ahmed al-Hamrouni, a former rebel commander in the city, said machine-guns and rockets were being fired in the city's main streets, and that black plumes of smoke could be seen rising from Sabha airport.
Local doctor Ibrahim Misbah told Reuters news agency: "The hospital crew has been working around the clock since Monday night and the injured keep coming in."
'Snipers'
Sabha fighter Oweidat al-Hifnawi said clashes at first centred on the airport but then moved to the city centre.
"There are Toubou snipers all over Sabha city centre and the number of wounded keeps going up," he said.
Mousa al-Koni, a Toubou representative on the NTC, told Reuters that the clashes escalated after a group of Toubou men tried to steal a car from a member of the Sabha militia.
He said a reconciliation committee was being set up to try to stop the violence.
However, Toubou elder Issa Abdel Majid Mansur told AFP news agency that the government wanted to "exterminate" his people.
"We announce the reactivation of the Toubou Front for the Salvation of Libya to protect the Toubou people from ethnic cleansing," Mr Mansur said.
"If necessary, we will demand international intervention and work towards the creation of a state, as in South Sudan."
In February the Toubou were involved in deadly clashes with another tribe in the remote south-eastern oasis of al-Kufra.
Members of the tribe live mainly in Chad but are also found in Libya, Niger and Sudan.
The NTC has struggled to persuade the various militias who fought Col Gaddafi to lay down their arms and join the armed forces and police.
NTC officials said national army forces had been deployed in the city and were also trying to restore order.