Can Nigerian Islamic schools prevent militants recruiting?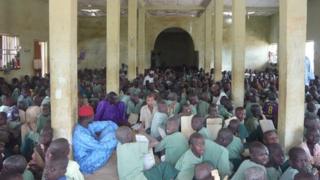 The Nigerian city of Sokoto, where two foreign hostages were killed this month in a botched rescue attempt, hopes that a model state-funded school can help stop poor children from becoming possible recruits for Islamist militants.
There are plans to build hundreds of these schools across the north to deal with the increasing security threat.
The city which, like many places in the north of the country, has hundreds of poor boys begging on its streets, has become an unfortunate tourist attraction because of the raid.
Speculation has continued since the incident that sophisticated criminals are now operating in the area.
Some officials argue that providing a sound education is the only way to stop such organised networks and ideologies attracting the young.
The street children in the north, of which there are millions, are mainly Almajiris - young boys, sent far from home, to attend private religious schools to master the Koran.
But every day they beg for whatever is going, meaning they are potentially vulnerable to exploitation by well funded and organised groups.
In between odd jobs, 18-year-old Abubakar Sani scrapes by with food from residents of Marina neighbourhood, a few kilometres from both the new government school and site of the failed raid.
He said he had been forced into begging, because his parents sent him to private Koranic school.
But he's happy they did.
"Yes. I prefer to be here because if I stayed at home, I would not be able to learn the Koran," he said.
It can be a painful process.
Fifteen-year-old Sarajo said he hated the lash of the teacher's whip and was lonely.
"Yes I feel it," he said, head bowed.
"If I make a mistake I'll be beaten. But if I offend my parents at home, they don't beat me," he added.
Sokoto's Almajiri Integrated Model, however, offers a different approach.
Started in 2008 with the blessing of the state's governor, Aliyu Wamakko, it has grown in size from 30 students to 700.
Mr Wamakko wants the pupils to feel loved.
"With that kind of approach these young students, who may otherwise find themselves in the wrong place, can grow up in the right place, with the right vision for their motherland," he told me in his heavily guarded and lavish residence.
I asked if it is his aim to drain the demand of the informal schools and to eventually close them down.
"Well, to some extent yes. Yes," he admitted.
Amid the whirring of the students' sewing machines, I entered the school.
It looks, in every sense, like a beacon of excellence, situated by a main road, in the centre of town.
There are three spacious, finely painted bright yellow and green two-storey buildings for classrooms and lodgings.
The headmaster has a separate office, there is also a kitchen, a vast mosque and a sports ground.
The model boarding school's principal Umar Abubakar, a former Almajiri, said teaching Western, as well as Islamic, education will help students to integrate better into society.
"They're learning computer, English, mathematics, science, social studies, Arabic language and Hausa language," he told me in front of a well-disciplined group of students who looked on approvingly.
"Beside that, they're learning the Holy Koran."
A model Almajiri school has large public support in Sokoto, home of the spiritual leader of Nigeria's Muslims, and the state with the highest proportion in poverty.
But some say the government's plan to build schools in other northern states is a political gimmick, driven by security fears.
Sociologist Sulaiman Khalid has studied Almajiris for years.
He thinks the government, by building religious schools, is institutionalising the problem without actually addressing the issue of poverty in the informal schools.
"The government is reacting to the challenges of ethno-religious violence. The Almajiri, according to them, are actually the foot soldiers that perpetrated the violence, which is wrong," he said.
The reason the government is embracing a problem it ignored for years is clear from a visit to a compound in the Mabera neighbourhood of Sokoto.
Weeks after a failed attempt to free Briton Chris McManus and Italian Franco Lamolinara, who had been held there by kidnappers, the floor of the toilet is still covered in blood, where locals said the foreigners were murdered.
Following a battle with Nigerian and British forces, broken glass and bullet holes still litter the place.
The doors to two prison-like, darkened rooms sit ajar. The place eerily silent.
On closer inspection, parts of the ceiling are missing, exposing the kidnappers' own failed attempts to escape the surrounding military.
The restfulness previously associated with the north-west of the country has been shattered by this high-profile act of criminality, which made headlines around the world because it involved foreigners, as well as recent pronouncements by the militant Islamist group Boko Haram that their members were present in the area.
Not far away, in Marina neighbourhood, Islamic teacher Hayatu Ahmadu takes Abubakar's class through the Koran.
Former Almajiris have spoken of how Koranic teachers have recruited pupils for religious battles with fatal consequences.
The teacher said a code of conduct was in place to stop his students hanging around possible recruiting grounds such as markets, beer parlours, coach stations and brothels.
He is also unequivocal about changing what he imparts.
"We will definitely not introduce Western education into our curriculum. We'll stick to only teaching Islamic knowledge for the sake of Allah," said Mr Ahmadu.
That, perhaps, may be the hardest obstacle for the government to overcome.
Informal schools are likely to remain packed, with so much demand for them.
Many have passed from generation to generation, without state help, and have little appetite to change now.