Al-Shabab forces lose Somali base of El Bur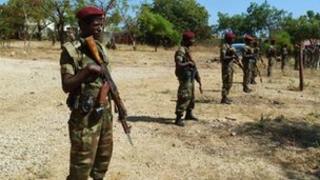 Ethiopian forces and Somali pro-government troops have captured a major base from al-Shabab militants, residents say.
The central town of El Bur was one of the main bases still controlled by the al-Qaeda-linked group, analysts say.
But residents say al-Shabab fighters had withdrawn before the pro-government forces arrived.
Al-Shabab still controls many southern areas but is also under pressure from Kenyan and African Union forces.
Kenyan troops invaded from the south last year, while the AU force has pushed al-Shabab out of the capital, Mogadishu.
Residents of El Bur say they have seen Ethiopian armoured personnel carriers move into the town, which was taken without a fight.
BBC Somali service analyst Mohamed Ibrahim Mwalimu says the capture of El Bur opens the way to other nearby areas.
Ethiopian forces were accompanied by fighters from moderate Islamist militia Ahlu Sunna Wal Jamaa, which is allied to the UN-backed government.
Despite pressure on the militants, al-Shabab continue to carry out attacks, especially in Mogadishu.
Al-Shabab said it carried out an attack on Monday at a camp for the displaced that killed two civilians and left eight injured.
Militants targeted the site, near the presidential compound, with mortar bombs.
The attack was the third this month against the heavily guarded compound in Mogadishu.
Somalia has been without an effective central government since 1991 and since then, has been convulsed by conflict.
The UN-backed government only controls the capital, Mogadishu.