Libya's former spy chief Senussi 'to be handed over'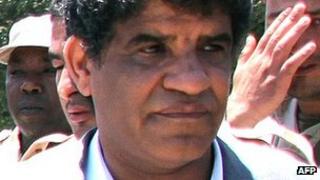 Libya's deputy prime minister has said Mauritania has agreed to extradite the former Libyan intelligence chief Abdullah al-Senussi.
Mustafa Abushagur made the announcement after meeting Mauritanian President Mohamed Ould Abdelaziz.
But later Mauritania's authorities said no decision on extradition had yet been made.
Senussi, one of the late Libyan leader Muammar Gaddafi's key aides, was arrested in Mauritania late last week.
Nicknamed "the butcher", he was one of the last significant members of the Gaddafi regime still at large.
The interim Libyan government has repeatedly said it wants him back on Libyan soil so he can stand trial for numerous allegations of murder and human rights abuses while he was Gaddafi's head of intelligence.
Interpol, the international police agency based in France, has issued a "red notice" at Libya's request for Senussi "for fraud offences including embezzling public funds and misuse of power for personal benefit".
He is also being sought by the International Criminal Court (ICC) on charges of crimes against humanity.
In addition, France wants to extradite him in connection with a bomb attack on a plane in 1989.
'French pressure'
"I have met the president of Mauritania and he agreed to the extradition of Senussi to Libya,"Mr Abushagur wrote on his Twitter accountafter meeting Mr Abdelaziz in Nouakchott.
On Wednesday, Libyan government spokesman Nasir al-Mani reiterated that an agreement had been reached and the handover would happen "soon".
"We respect the judicial procedures in Mauritania which will take time to finish, but it is simply a question of time," AFP news agency quoted him as saying.
There has been no official confirmation of the move from Mauritanian officials.
"We agreed to study their request favourably. It's almost a done deal but one should be careful. The French are applying lots of pressure," a security source in Mauritania told the Reuters news agency on condition of anonymity on Tuesday evening.
A French court convicted the former spy chief of involvement in a 1989 attack on a French plane that killed 170 people, and sentenced him to life in prison.
The late Libyan leader's son Saif al-Islam Gaddafi, who has also been indicted by the ICC, was captured in November in southern Libya and has been held by former rebels ever since.
The ICC wants him tried in The Hague but the Libyan authorities say he will receive a fair trial at home.