Somali refugees killed by Mogadishu mortars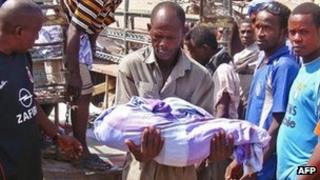 About six people have been killed in Somalia after mortars landed on a refugee camp near the presidential palace in Mogadishu, officials say.
A family of four were reportedly among those killed when a mortar landed on their shack - a girl of seven is said to be the only survivor.
Islamist group al-Shabab said it had fired more than a dozen mortars.
The al-Qaeda-linked group controls many southern areas but is under attack on a number of fronts.
Ethiopia has sent troops from the west and Kenya from the south, while al-Shabab was forced out of Mogadishu last year.
"A father, mother and two of their children have all died after a mortar shell smashed into their hut, and another round killed two other civilians," witness Abdiwahid Mohamed told AFP.
Paddy Ankunda, a spokesman for the African Union force supporting the UN-backed government, told Reuters news agency that about six civilians had been killed but no mortars had landed in the presidential palace.
Although al-Shabab no longer controls any Mogadishu districts, it stages frequent attacks on the city.
Last week, five people were killed when a bomber blew himself up near the presidential palace.
The government only controls the capital but last week started its first advance beyond the city limits.
The country has been racked by fighting since its last effective national government was toppled 21 years ago.