Amnesty: Nato must probe Libya civilian deaths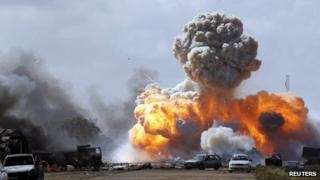 Amnesty has called on Nato to investigate civilian deaths from its bombing campaign in Libya last year.
The human rights group said it had evidence that 55 civilians, including 16 children and 14 women, were killed in air strikes.
It acknowledged Nato tried to minimise civilian deaths, but said it must compensate families of those killed.
Nato said it had looked into all credible reports of civilians being harmed, and would continue to do so.
Amnestyissued its reporton the anniversary of the start of the Nato bombing campaign against Col Muammar Gaddafi's forces, acting under a UN mandate to protect civilians.
The group visited the sites of Nato air strikes in Tripoli, Zlitan, Majer, Sirte and Brega earlier this year, and spoke to survivors.
'Highly precise campaign'
In one attack on 8 August on Majer, west of Misrata, Amnesty said 34 civilians - including eight women and eight children - were killed in three air strikes.
Family members who survived said they were not aware of any people or activities nearby to explain the attacks.
"It is deeply disappointing that more than four months since the end of the military campaign, victims and relatives of those killed by Nato air strikes remain in the dark about what happened and who was responsible," said Donatella Rovera of Amnesty.
In a statement, Nato quoted an international commission of inquiry on Libya which said it had "conducted a highly precise campaign with a demonstrable determination to avoid civilian casualties".
"Nato has looked into each credible allegation of harm to civilians which has been brought to our attention and will continue to do so," added its spokeswoman Oana Lungescu.
It also noted that it had no observers in Libya during the operations, and no mandate to enter the country after they ended.
The new Libyan government is demanding the extradition of Abdullah al-Senussi, the head of intelligence in Col Gaddafi's government, who was arrested in Mauritania on Saturday.
He is also being sought by the International Criminal Court, and France wants to extradite him to face trial over the bombing of a French plane in 1989.