Somalia forces advance from Mogadishu against al-Shabab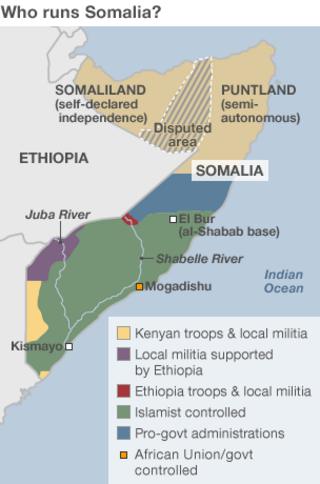 Somali government troops, backed by the African Union, have for the first time seized an area outside the capital from the Islamist group al-Shabab.
The BBC's Mohamed Dhoore, who travelled to the area of Galgalato, 30km (20 miles) north-east of Mogadishu, said it appeared to have been used as a military camp.
Most al-Shabab fighters seemed to have withdrawn without much resistance.
Al-Shabab controls many southern areas but is losing territory.
It is under attack from Ethiopian forces in the west, Kenya to the south and was forced out of Mogadishu last year.
However, it continues to stage suicide attacks in the capital - on Wednesday five people were killed when a bomber blew himself up at the gates of the presidential palace.
Our reporter says he saw abandoned trenches and tents in the coastal area of Galgalato.
Al-Shabab earlier this year announced that it had merged with al-Qaeda.
The UN-backed government only controls the capital.
The country has been racked by fighting since its last effective national government was toppled 21 years ago.