Nigeria kidnap 'mastermind' dies in police custody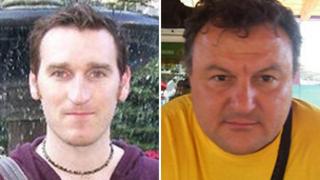 The man suspected of planning the kidnapping of a Briton and an Italian man in Nigeria has died in police custody, the secret service says.
The State Security Service said Abu Mohammed had died of gunshot wounds sustained when he was captured.
Islamist militants took Chris McManus and Franco Lamolinara hostage in north-west Nigeria last May.
The two engineers died when Nigerian and UK forces tried to free them last week.
Abu Mohammed was captured along with five other suspects a day before last Thursday's failed attempt to rescue the two captives, police told a briefing in the capital, Abuja.
'Swollen faces'
Five men detained at the same time as Abu Mohammed were paraded in front of journalists at the news briefing.
The BBC's Muhammed Abba, who was at the briefing, says the men had swollen faces.
Mr McManus and Mr Lamolinara were killed before they could be rescued by British and Nigerian forces last Thursday.
Nigerian intelligence officials said they launched the joint operation after the escape of a militant Islamist during the raid on Wednesday, the BBC's Mark Lobel reports from Abuja.
The member that escaped then ordered the guards in Sokoto to murder the two hostages before the arrival of the security officers, they said.
A senior security source, who did not wish to be named, told the BBC the hostages were held in Burkina Faso and Niger, as well as Nigeria.
The incident gave rise to tension between Britain and Italy, which said it had not been consulted about the raid.
British officials believe a splinter group of Islamist group Boko Haram was involved in the pair's kidnapping, in the town of Birnin Kebbi.