British journalists held in Libya transferred to government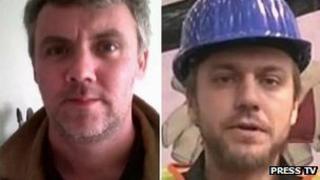 Two British journalists who were detained by a Libyan militia group last month have been handed over to the Libyan Interior Ministry.
Nick Davies-Jones and Gareth Montgomery-Johnson work for the Iranian news channel Press TV.
They were detained on 22 February and accused of working in the country illegally.
The UK embassy in Tripoli said it was following developments closely and providing full consular support.
The sister of Mr Montgomery-Johnson, Mel Gribble, said the UK Foreign Office had confirmed to her that the two men were no longer being held by the militia.
"They said he [her brother] was fine and we just want to get him home," she told the BBC.
International groups including Amnesty International and Reporters Without Borders, had called on the militia group to hand the men over to the Libyan authorities.
The interior ministry in Tripoli says it will now decide whether to press charges.
The militia group holding the two men published a video of them on Tuesday in which they apologised for entering Libya illegally.
In the video message, which Mr Davies-Jones said was recorded on 12 March, the journalists said they were being treated well.
They appeared calm and in good health.