Kgalema Motlanthe urges South Africa 'bribe' inquiry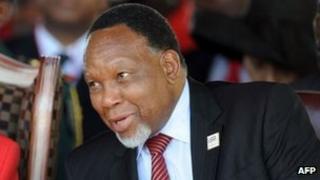 South Africa's Deputy President Kgalema Motlanthe has called for an official inquiry into allegations that his partner solicited a $13m (£8m) bribe.
Mr Motlanthe and Gugu Mtshali deny any wrongdoing, his office says.
Local media reported that Ms Mtshali asked for a bribe from a South African firm wanting to sell US helicopters to Iran in defiance of UN sanctions.
President Jacob Zuma's critics have touted Mr Motlanthe to replace him and run for president in 2014 elections.
Caretaker president
The allegations in the Sunday Times were of such a "serious nature" that the deputy president has written to South Africa's ombudsman, asking Public Protector Thuli Madonsela to investigate, his office says.
"Both Deputy President Motlanthe and Ms Mtshali are firmly of the view that they have committed no wrong doing of any kind in relation to the alleged events described in the Sunday Times story," the statement reads.
When Thabo Mbeki resigned as president in 2008, Mr Motlanthe served as South Africa's caretaker president ahead of the 2009 elections which saw Mr Zuma come to power.
He was seen as a safe pair of hands and at times was considered as a potential challenger to Mr Zuma's desire for a second term, the BBC's Karen Allen in Johannesburg says.
That possibility is now higly unlikely, our correspondent says,- the most vocal supporter of any Motlanthe bid for presidency.
But a political motivation for these bribery allegations cannot be ruled out, she adds.