Mozambique ex-rebel Renamo camp raided by police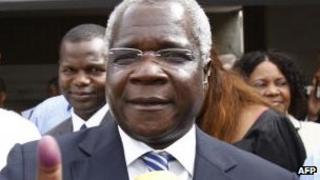 Two people have been killed during a raid on a camp of opposition supporters in Mozambique, police have said.
About 300 men, the bodyguards of Renamo leader Afonso Dhlakama, had been living for weeks in makeshift shelters outside their party headquarters in Nampula.
The ex-rebel movement said the officers shot at unarmed men, but the police say they came under attack first.
It is the first time police and ex-rebels have exchanged direct gunfire since the civil war ended 20 years ago.
Renamo fought a bloody 16-year war with the ruling Frelimo party.
Mr Dhlakama is under house arrest, according to his spokesman, and has been trying to get in touch with President Armando Guebuza to talk about the incident.
His bodyguards had arrived in the northern town of Nampula in December to await, they say, his go-ahead to stage anti-government protests.
Shoot-out
Nampula police spokesperson Inacio Dina said Renamo's allegations that officers staged an unprovoked attack on their party's offices are false.
"We have always tried to persuade them to leave peacefully," Mr Dina told the BBC's Focus on Africa programme.
"At about 5am local time [03:00 GMT] our patrol men came under fire and we responded," he said.
A policeman and opposition supporter were killed and at least 34 people arrested, Mr Dina said.
Weapons, including AK47s, were confiscated and police cars damaged, according to the police.
Renamo spokesman, Fernando Mazanga, disputes the police account, telling the BBC that Mr Dhlakama's special guard were attacked first.
He says the Renamo guards responded, killing seven people and wounding several others.
"The future of Mozambique will be decided by those who attacked us - they will decide whether they want peace or war," Mr Mazanga told the BBC.
"Renamo wants peace - but we are not afraid of war," he said.
The BBC's Jose Tembe in the capital, Maputo, says the atmosphere in the city has been tense since the arrival of the Renamo bodyguard - with reports of rapes and robberies.
The tension escalated last month when the armed Renamo men abducted a 65-year-old man.
Our correspondent says that under the terms of Mozambique's 1992 peace accords the men should have been disarmed after the first multi-party elections in 1994 - but the government and Renamo have never reached an agreement.
This force has in the past created instability in Maringue and Cheringoma, towns in central Mozambique, on the pretext of guarding Mr Dhlakama's houses and property, he says.
Mr Dhlakama, Mozambique's main opposition leader, has been warning of protests since he lost the 2009 elections .
No protests have taken place so far.
Official electoral results gave Mr Guebuza more than 75% of the vote, compared to 16.5% for Mr Dhlakama - the fourth time he had lost since the end of civil war in 1992.
During the civil war, Renamo was backed by the white minority government in South Africa.