Nigeria gunmen kill customs boss in Yobe state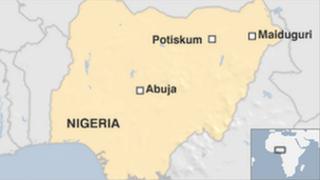 A high-ranking Nigerian customs officer has been shot dead by gunmen thought to be from the militant Islamist Boko Haram, police have said.
Adamu Ahmadu was killed in Yobe state in north-east Nigeria, weeks after tightening up border controls to stem the flow of arms in the region.
Boko Haram has its stronghold in Maiduguri in neighbouring Borno state.
The group has carried out a series of deadly attacks in northern Nigeria in the past 18 months.
Homes targeted
Police say six gunmen stormed into the house of Mr Ahmadu in the town of Potiskum on Tuesday night, killing him and shooting at others.
Boko Haram has not commented on allegations that its members were behind the attack.
But the BBC's Mark Lobel in Lagos says officials suspect it was the work of the al-Qaeda-linked group.
Officials say Boko Haram has recently targeted senior government officials in their homes.
The group is also accused of killing four Christians in Borno state - days after a Boko Haram spokesman warned they would eradicate Christians from certain parts of the country, our correspondent says.
They have also blamed for the death of a Muslim cleric in Maiduguri.
The group, whose name means "Western education is forbidden" in the local Hausa language, has said it wants to overthrow the national government and install an Islamic state.
Its members have frequently attacked police stations and other symbols of state power, but the group has also bombed churches, burnt down schools and killed hundreds of people - including many Muslim and Christian civilians.
On Wednesday, global rights watchdog Human Rights Watch said at least 5,000 students have stopped going to classes after at least a dozen schools were set alight in Maiduguri.
HRW blames Boko Haram, although Nigeria's joint military task force said local criminals may be behind the attacks.