Libya's Jalil rejects calls for Cyrenaica autonomy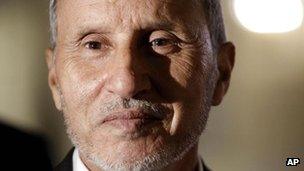 Libya's national unity will be defended with force if necessary, the head of the governing National Transitional Council (NTC) has said.
Mustafa Abdel Jalil called on regional leaders to engage in dialogue, a day after senior figures in oil-rich eastern Libya called for semi-autonomy.
He warned that remnants of the Gaddafi regime were "infiltrating" their ranks.
Civic leaders in the east say they have experienced decades of neglect from Tripoli-based governments.
Leaders from the region, which was once called Cyrenaica, made their call for more autonomy in a document issued after a meeting in Benghazi, which was the focal point of the revolution that toppled Muammar Gaddafi.
They demanded a regional parliament, and control over the police force and courts, but stopped short of advocating a division of the country.
They agreed that foreign policy, among other responsibilities, should be left to the government in Tripoli.
But Mr Jalil said he would not allow a divided Libya.
"We are ready to deter them, even with force," he said in a speech shown on national television.
Other NTC members have claimed that the authors of the Benghazi declaration were trying to hijack the revolution and did not fully represent the region.
However, correspondents say the declaration has significant popular support among people in Benghazi.
Libya's three regions enjoyed federal power following the country's independence in 1951, until the country became a unitary state in 1963.
Cyrenaica stretches from the central coastal city of Sirte to the Libyan-Egyptian border in the east - containing two-thirds of the country's oil reserves.
The people of Cyrenaica, known as Barqa in Arabic, felt particularly marginalised and neglected under Gaddafi, who focused much of the development on the west.
The city of Benghazi was the seat of the uprising that eventually toppled the former dictator.