Working for peanuts in Cameroon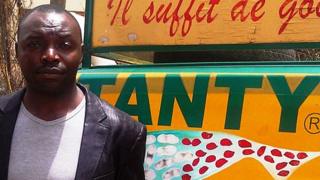 It was homesickness for Cameroonian food which first gave Thierry Nyamen the idea for his business.
He was studying for a PhD in agricultural mechanisation in Ukraine and could not find any peanut paste there.
"My mother could not send me the groundnut paste and I was very disappointed," he told the BBC series African Dream.
"How Cameroonians cannot make a faster food for people who need the product quickly?" he says he asked himself at the time.
So he started to dream of a machine that would turn peanuts into a long-lasting and easily transportable powder.
When he completed his studies, in 1999, he applied for several engineering jobs in Cameroon but, in spite of having a doctorate, he did not get any replies.
He then designed his dream machine and started to make peanut powder. To advertise it and to make ends meet, he worked as a cook for a year in the capital, Yaounde.
"In 2000 I started to cook groundnut sauce with rice on the road. It was so difficult. Some of my friends called me a madman. 'Are you sure that you have a PhD?'," Mr Nyamen told the BBC Africa's Randy Joe Sa'ah.
On top of that, he had a job as a taxi driver.
"When I was collecting some of my passengers I wanted to show them that this is the new product I've made in the market… They didn't want to believe that this is from Cameroon."
Best young entrepreneur
In 2003 he was chosen as Cameroon's best young entrepreneur and received a 10m CFA ($20,000, £12,500) prize which was given to him by President Paul Biya.
"That money was the start of the real business… First of all, I bought a car because I was a driver, I was doing all works, I was a mechanic, producing in the night and selling in the day, I was all in the company," he explained.
According to him, the car was even his "hotel" when he had to go to other towns to advertise his business.
Soon his small company, known at the time as Inter-Agro and now called NT Foods, took flight.
Its products, commercialised under the trademark Tanty, were especially attractive to women working in the cities because of the reduced preparation time involved.
They also benefited from a growing interest in healthy food made with no chemical additives.
Local products
Although the firm initially centred on the production of peanut powder and oil, it quickly diversified and started making things like soybean pap enriched with fruit or fish powder.
"We created a pap especially for children. Oh, we were selling!" the entrepreneur said.
The most recent products include packaged plantain chips, peanuts and coconuts.
Mr Nyamen believes that Cameroon has no need to import food from Europe or elsewhere and that, on the contrary, it should export more.
"The main purpose of our company, NT Food, is food processing, give value to our local products. You know, we used to talk about globalisation; it's to show that we have something to put in that market."
So his plan at the moment is to start finding foreign niche markets, especially in other central African countries.
What advice would he give to those who might want to start a business?
"First of all, they must go to school. You must learn well what you're doing. I used to work 17 hours per day and they said: 'Oh, it's enough'. Enough more than who? Europeans are working more - that is why Europe is like that," he said.
He added that people should not feel that they are too old to start a business.
And how is his company faring?
"We're moving step by step. We're growing. We have around 100 supermarkets selling our products. But we need the help of some banks because when you want to buy raw material, when you want to pay your employees, when you want to pay taxes, it will need always money," Mr Nyamen said.
African Dream is broadcast on the BBC Network Africa programme every Monday morning.
Every week, one successful business man or woman will explain how they started off and what others could learn from them.