ICC issues Sudan defence minister warrant over Darfur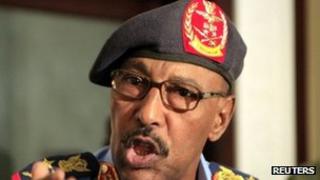 The International Criminal Court has issued an arrest warrant for Sudan's Defence Minister Abdelrahim Mohamed Hussein for alleged crimes in Darfur.
The court said there were sufficient grounds to hold him responsible for 20 counts of crimes against humanity and 21 counts of war crimes.
In December, a senior Sudanese official dismissed the request for the warrant as "ridiculous".
The Hague-based ICC has already indicted Sudan's president.
Omar al-Bashir denies the charges of genocide, crimes against humanity and war rimes in Darfur, saying they are politically motivated.
The UN estimates that more than 300,000 people have died in Darfur, mostly from disease, since rebels took up arms in 2003.
The government in Khartoum puts the figure at about 12,000 deaths, and says the number of casualties has been exaggerated.
'Counter-insurgency campaign'
ICC prosecutor Luis Moreno-Ocampo asked the judges for the warrant in December, saying Mr Hussein was among those who bore the "greatest criminal responsibility" for atrocities in Sudan's Darfur region from August 2003 to March 2004.
The mainly Arab Janjaweed militia is accused of carrying out a policy of ethnic cleansing and genocide against Darfur's black African population after rebels took up arms in 2003, accusing the government of ignoring the region.
According to the ICC, attacks followed a pattern, with Sudan's military surrounding a village, the air force bombing it and then soldiers and Janjaweed fighters going in on foot, killing, raping and looting.
The ICC said in a statementthat Mr Hussein should be prosecuted for crimes against humanity, including persecution and torture, and war crimes including murder and rape.
The court said the crimes were allegedly committed against the Fur population in the towns of Kodoom, Bindisi, Mukjar and Arawala by the Sudanese armed forces and Janjaweed militia during a counter-insurgency campaign against Darfuri rebels.
"The plan of the counter-insurgency campaign was allegedly formulated at the highest levels of the government of the Republic of the Sudan and had allegedly as a core component an unlawful attack on that part of the civilian population perceived by the government as being close to the rebel groups," it said.
At the time, Mr Hussein was both Sudan's interior minister and its representative in Darfur.
Together with President Bashir, the court has also indicted another former Interior Minister Ahmad Muhammad Harun and Ali Muhammad Ali Abd-Al-Rahman, a suspected leader of the Janjaweed militia, over alleged atrocities in Darfur.
The ICC says that Mr Harun reported directly to Mr Hussein. They all deny the charges and refuse to surrender.
The Hague-based court has also indicted two Darfur rebels, who are accused of attacking African Union peacekeepers in Darfur. The suspects surrendered to the court in 2010.