Somalia's al-Shabab launches surprise Garbaharey raid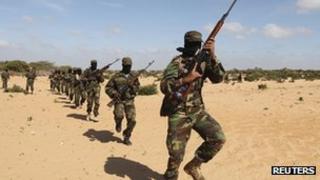 Islamist militants have made a surprise attack on a south-western town used by Ethiopian and Somali government-backed troops as a base to launch assaults.
The al-Shabab fighters used heavy weaponry in the attack on Garbaharey, which it controlled until a year ago.
Two senior military officers were killed and several wounded, a Somali MP and other officials told the BBC.
This is the first major attack by al-Shabab since it lost control last week of Baidoa, an important stronghold.
BBC Somali Service analyst Abdullahi Sheikh says the Garbaharey attack was a major military operation - and a strong indication that the movement's retreat from key positions does not mean it has given up the fight.
He says al-Shabab, which recently announced it was joining al-Qaeda, may be weakened - but it is far from a spent force and still controls swathes of territory in south and central Somalia.
MP injured
Garbaharey has a major presence of heavily armed Ethiopian forces, which are supporting Somali government troops and local militia, and has been under their control for almost a year.
Al-Shabab fighters used mortars and vehicles mounted with guns - known as "technicals" - and the overnight fighting lasted for hours.
"Garbaharey remains under our control," Muhummad Sayyid Adan, an MP for the area who was injured in the fighting, told the BBC Somali Service.
"We lost two men in the fighting, and the injuries of those who were wounded are not that serious."
Last week, Ethiopian and Somali troops took over Baidoa, 150km (90 miles) east of Garbaharey, which is just under 100km from the Kenyan and Ethiopian borders.
The loss of Baidoa was a blow to al-Shabab, as the main road linking Mogadishu to the south-west and parts of Kenya and Ethiopia passes through the city.
Al-Shabab says it withdrew its forces from Baidoa as part of a "tactical retreat" and threatened to start a guerrilla war in response.
Last week, world leaders meeting in London pledged to boost support for measures to fight piracy, terrorism and political stability in Somalia by substantially increasing international funding for the African Union military operation in the country and working more closely together.
The UN Security Council recently unanimously agreed to bolster the number of AU forces by more than 5,500 to 17,731 - to include the Kenyan troops that entered the country last October in pursuit of al-Shabab militants.
The resolution passed by the 15-nation council also gave the African force a stronger mandate to attack al-Shabab militants.
Last year, AU troops in support of the UN-backed government pushed al-Shabab out of the capital.
However, the militants continue to stage suicide attacks in the city.