Nigeria gunmen 'kill three policemen' in Bauchi state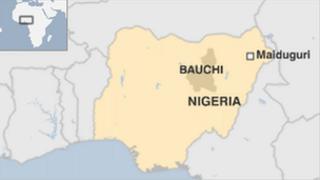 Witnesses in the northern Nigerian state of Bauchi say gunmen attacked a police station and a bank, killing three policemen.
Residents of the town of Jama'are say they heard gunshots and several blasts late on Monday night in a stronghold of the Islamist sect Boko Haram.
A police spokesman confirmed the incident but refused to give further details of the attack.
Boko Haram has carried out almost daily attacks in parts of northern Nigeria.
Eyewitnesses told AFP that the gunmen set the police station on fire. A nearby bank was also set on fire and its vault emptied.
Bloody attacks
Meanwhile, in the north-eastern city of Maiduguri, a primary school was set ablaze, also on Monday night. Witnesses heard gunshots.
There has been no official confirmation of casualties for either attack.
Boko Haram has been operating mainly from Maiduguri, carrying out bloody attacks against government offices, police stations and churches.
The group, whose name means "Western education is forbidden" in the local Hausa language, is fighting to create an Islamic state and wants to impose Sharia law across Nigeria.
Boko Haram has been responsible for a series of deadly attacks and assassinations in northern Nigeria in the past 17 months.