Nelson Mandela 'recovering well after laparoscopy'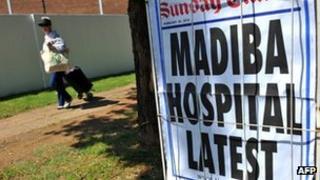 Nelson Mandela is recovering well in hospital after having diagnostic abdominal surgery, South African officials have said.
Defence Minister Lindiwe Sisulu said the 93-year-old former president had undergone a laparoscopy but was "as fine as can be at his age".
The procedure involves inserting a tiny camera through the abdomen or pelvis to carry out an internal investigation.
The Nobel Prize laureate is expected to be released from hospital by Monday.
Ms Sisulu, whose ministry is responsible for Mr Mandela's health, denied media reports that he had been operated on for a hernia but gave no further details on his condition.
She said only he had been suffering from "ongoing discomfort" on a regular basis.
"The only way that we could finally get to the bottom of this is by taking him to hospital and having a number of tests to find out if in fact what was prescribed, what we were giving him, was working and if we could not make it any better," Ms Sisulu told reporters.
"He's as fine as can be at his age - and handsome. If we had it our way, he would be home by now."
'No danger'
Officials have previously said he had been suffering from a long-standing abdominal complaint.
The South African government has not said where Mr Mandela is being treated and has requested he be granted privacy.
President Jacob Zuma said in a statement on Saturday: "We are happy that he is not in any danger and thank the doctors for their hard work and professionalism."
Mr Mandela, who is affectionately known in South Africa by his clan name, Madiba - spent 27 years in prison for fighting the white-minority rule of the apartheid era.
He became South Africa's first black president in 1994, serving one five-year term.
In 2004, he retired from public life - his age and declining health mean he has appeared in public only rarely since.
But he remains a hugely popular figure in South Africa, where reports of his medical treatment have repeatedly sparked public concern.