Remembering Marie Colvin: Your thoughts and memories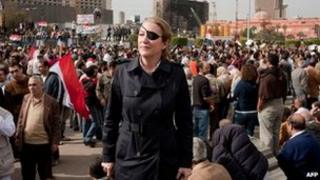 Sunday Times reporter Marie Colvin, an American, and award-winning French photographer Remi Ochlik have been killed in the Syrian city of Homs in the latest violence there.
BBC news website readers have been sharing their memories and thoughts.
"Marie Colvin was a close friend for over 10 years - one of the most intrepid, fearless, brilliant, passionate and amusing people I ever met. A raconteur with a never ending list of hair-raising stories from around the world. Yet beneath the carapace lay a vulnerable soul, just like the rest of us. She will be sorely missed and was much loved by many around the world, especially in East Timor.
But, as the Editor of the Sunday Times said today, all those who knew and loved her lived with the fear that a terrible tragic day such as this was always a possibility. We shall miss her greatly.
When she was injured and lost an eye in Sri Lanka, she said the British Embassy was useless, but the American ambassador turned up, presented his credentials and just informed the guerrillas he was taking her away with him, and did so. Rupert Murdoch personally found the world's leading ophthalmologist to treat her and, knowing her fondness for cocktails, arranged for a whole trolley or drinks - with a cocktail maker - to be delivered to her hospital room. She was wonderful fun, a truly remarkable friend and a brilliant journalist." Nick Pisani, London
"Now surely the world community has to do something. I agree with a principle of finding peace, but not appeasement. The Syrian regime has to change and we all need to support that change." Steve Bray, Melbourne
"I am sorry I did not know either of the two reporters but I have been horrified by their death. Thinking that most journalists had been called back from Syria, it had to have been a warning to the others. But Marie Colvin stayed. She has shown by her word and death that it takes the brave and dedicated to carry on in war regions. I think of her as a hero distanced from the world. Thank you." Marija Liudvika Rutkauskaite, Vilnius, Lithuania
"In 1987 Marie Colvin with photographer Tom Stoddart entered Bourj al Brajneh camp then besieged by pro Syrian forces and tanks.
As in Homs snipers,indiscriminate shelling and starvation were a feature of the daily death toll. Taking monumental risks with their lives they arrived unannounced and stayed a day and a night taking as much testimoney back out with them.
Friends put Marie and I up in their home and she interviewed us through the night. She left with pleas to the international community and a letter from myself to HM Queen asking for assistance in ending the 6 month long siege. We only found out they had made it out alive and safely from Lebanon when we heard reports of her story breaking in the Sunday Times.
I and many others owe her an enormous debt of gratitude for drawing international attention to the plight of the Palestinians in the besieged camps, and ultimately for saving our lives. It was an honour to have met her and she did not think twice about carrying out messages to the outside world which would have had her killed immediatley if she had been caught.
In terms of legacy, and she will not have the opportunity to see this, but having covered our story, I published the diaries of the sieges with Marie and Tom's surprise and completely fearless entry to a besieged camp recorded. Twenty years later I got an email from a Palestinian writer Nader Rizq in Florida, who having read the story of the camps developed a screenplay for a film (Zaytoun).
This and many other outcomes, such as most of the family she stayed with surviving the siege and now living safely in Denmark, are the untold ripples of Marie's work as a war correspondent. The word passionate is overused but that described her exactly- passionate and intelligent with resounding integrity. " Susan Wighton, Brechin, Scotland
"I only got to know the two journalists through their courageous reporting. We trusted them to give us a true and fair view of events. In discharging this duty they were the guardians of our humanity and conscience. They reported the awful truth coming out of Syria and they paid the ultimate price for this. Let us make their sacrifice count by at last doing something about what they reported." Yiannis Telonis, Moscow, Russia
"Marie was in the class ahead of me at Oyster Bay High School. Her brothers were classmates of mine as well. My memory of her is that of a beautiful, caring, thoughtful young woman who would make a great impact in her future endeavours. Clearly, she has done that with distinction and honour. My thoughts and prayers are with her loved ones. May she rest in peace." Jane Passarelli Dye, Huntington, NY, USA
"I sadly knew neither of the journalists who were killed, though feel compelled to write since Marie Colvin's televised report from Homs on Wednesday night (on Channel 4) was one of the most distressing and powerful I have ever watched.
The images shot back into our living room, the contrasts between the lives of these poor people and our own, framed by Colvin's powerful, eloquent yet raw report, brought home to my partner and I the extent of the suffering and size of the crime being perpetrated by the Syrian state on its people and it brought us to tears - the first time I can recall us ever having been so moved by a single story. It made us want to act - what can we do?
We both reflected, later, that whilst it was the sight of dead and dying children, and of children sitting next to their dead or dying parents that, for us, pierced the shell of distance and, sadly, of familiarity, it was the bare and obvious courage of the reporter and her crew in bringing the story into the spotlight that reminded us how important a job real journalists do in 'bearing witness' to the events of our times.
At a time when the ethics of the journalistic profession are clearly (and rightly) under scrutiny, let the reports by Marie Colvin and the many other correspondents who risk the most important thing they have to bring us truth from all over the world remind us what a vital role they play in a civilised and free society." Richard Venters, South Yorks
"She was booked in to stay in my chalet for a holiday a few years ago. She arrived a day late because she stayed in London to get an article finished for the Sunday papers, and then left a few days later to go and cover issues that were erupting in Israel at the time. Barely met her but she seemed lovely. And that was her week's holiday." Adam, London, UK