Life under Somalia's al-Shabab militants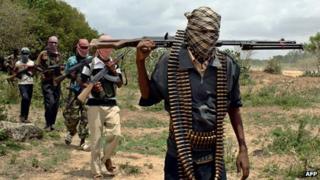 It is difficult to find out about life in areas of Somalia under the control of al-Shabab, which has imposed strict Islamic law.
During last year's drought, the group, which has now joined al-Qaeda, has banned many Western aid agencies from its territory.
Last year, the militants made a tactical withdrawal from the capital, Mogadishu, and have recently lost some territory to Kenyan and Ethiopian-backed militias.
But they still rule most of central and southern Somalia where many residents are fearful about expressing their opinions.
Yusuf, who lives in an al-Shabab area, told the BBC about his life.
Testimony
I live in Afgoye which is a town about 30km (about 20 miles) from Mogadishu. The area is controlled by al-Shabab.
I'm a teacher. I used to live in Mogadishu until two years ago. I decided to leave the capital as my people and family lived in Afgoye.
I decided to go there because there is productive land, there are large farms and a river - so things are cheaper.
We could get fresh vegetables and fruit - lots are grown in Afgoye. My family has a small plot of land and other families who have farms give me a helping hand.
Many people suffered because of the drought. My family was affected badly, there weren't as much crops as usual as the rains have not been good for the last two seasons, but we survived because of the farms.
Now food prices are expensive - there's inflation.
While I was in Mogadishu, one of my family members died. My dear sister - she was living nearby the frontline and a stray bullet killed her after an exchange of gunfire.
That was about three years ago and was another reason I left the city.
Afgoye is peaceful because there is not any fighting - when you're in the capital city you sometimes can encounter problems like explosions and bombings.
When you are in al-Shabab area you can't hear gunshots so the security I can say is good.
Smoking banned
But I still travel to Mogadishu every day to work. I still have my job at a school, in an area controlled by the government, where I earn a monthly salary of $150 (£95).
It's difficult to survive - and the journey by bus to work is difficult and expensive.
Most people travel by bus, with the women sitting at the back and the men sitting at the front. Few can afford cars.
I encounter roadblocks and traffic jams - it takes me at least an hour to get to my work - and sometimes I arrive late.
There are two al-Shabab checkpoints and two government checkpoints on the way into the city and the road is also rough.
On Fridays and Saturdays, I stay at my house to be with my children.
Life has changed a bit socially because of al-Shabab.
They have stopped people chewing khat [the mild narcotic leaf] in streets and in public. They've designated areas where khat can be chewed and khat dealers can sell.
But it is not illegal to chew in these special areas or the privacy of your home.
What is completely banned under al-Shabab is smoking cigarettes - you cannot buy them in Afgoye at all.
I have seen many friends and who have been stressed and have found it difficult to quit smoking.
Manchester United
They [al-Shabab] don't like playing football, they don't like music, but the youth are continuing playing football.
Playing football was my pastime and I support Manchester United. Some people still watch international matches in their home.
They will be arrested and punished if caught - but they watch in secret.
I have witnessed one of these punishments - when people are lashed in a public area. It was a man who they said had molested a girl.
These are the rules - according to Islamic rules they say that people who do something wrong they must be punished.
Some people like al-Shabab, they have some supporters.
But I can say things are changing - people are negotiating to come back to the residential areas of Mogadishu, which are filling up.
You can see on the streets many people who are coming back from al-Shabab areas arriving back in Mogadishu city.
Maybe I will return too.
For the future, I hope my children will be survivors and be educated.