Senegal: Former Nigerian leader Obasanjo in peace bid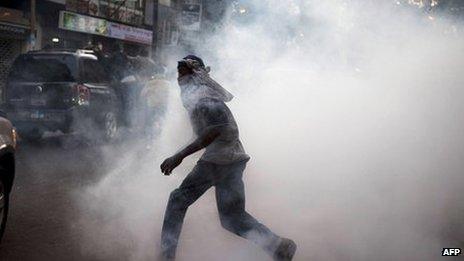 Former Nigerian leader Olusegun Obasanjo is to meet Senegal's opposition to try to defuse rising tensions ahead of Sunday's elections.
Mr Obasanjo is in Dakar as head of a joint African Union-Economic Community of West African States observer mission.
At least six people have been killed in weeks of violent protests against President Abdoulaye Wade's candidacy.
His rivals say his third term bid is illegal.
Mr Obasanjo - who arrived in Dakar late on Tuesday while police once again fired tear gas to disperse protesters in the capital - is to meet the leaders of the M23 movement, which has organised the nationwide protests and wants Mr Wade to step down and not contest elections.
He will also meet key presidential candidates, including two former prime ministers, Moustapha Niasse and Idrissa Seck, and the leader of the opposition Socialist Party, Ousmane Tanor Dieng.
"My job here is, first, election observation," Mr Obasanjo told the BBC.
"And, second, to be proactive on behalf of our two organisations [AU and Ecowas] to prevent what is undesirable and unwanted," he said.
The BBC's Umaru Fofana in Dakar says hopes are running high that Mr Obasanjo will help restore peace in Senegal - but, he says, this will be a difficult task.
The country is often held up as one of Africa's model democracies - it remains the only West African country where the army has never seized power.
But protests broke out in January after the country's highest court ruled that Mr Wade could seek a third term and banned singer Youssou Ndour from standing.
The constitution limits heads of state to two terms in office but the judges ruled that Mr Wade's first term did not count as this was before the limit was introduced.
Once a veteran opposition leader himself, Mr Wade, 85, was first elected in 2000 - ending 40 years of rule by the Socialist Party.
Related Internet Links
The BBC is not responsible for the content of external sites.