UN to bolster Somalia peacekeeping force Amisom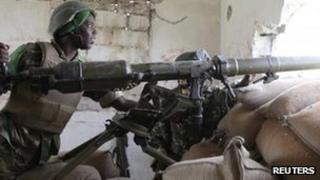 The UN Security Council is to vote to increase the African Union peacekeeping force in Somalia by more than 5,000 soldiers, diplomats have said.
The resolution will increase the number of troops in the country to 17,731 from its current level of 12,000.
In Somalia, Ethiopian troops are advancing on the strategic central city of Baidoa, held by al-Shabab militants.
British Prime Minister David Cameron told the BBC the threat from al-Shabab was "substantial".
He was speaking ahead of an international conference on Somalia to be held in London.
"It is based on the fact that al-Shabab is an organisation that has now explicitly linked itself to al-Qaeda, and it encourages violent jihad not just in Somalia but also outside Somalia," Mr Cameron said.
A BBC correspondent in Somalia says the Ethiopians are now about 15km (10 miles) from Baidoa.
He says local people are fleeing the city in large numbers and heading to remote villages where food is scarce.
The armed Islamist group controls many southern and central parts of Somalia, which has been without an effective central government since 1991.
Political solution
Nearly 2.5 million Somalis have been forced from their homes during the conflict - almost a third of the population.
Last year, al-Shabab was forced out of many parts of the capital, Mogadishu, by the African Union forces, along with troops loyal to the UN-backed government. Since then, the group has also lost ground in other areas.
In October, Kenyan troops crossed over the border in pursuit of al-Shabab members it blames for a series of kidnappings in Kenyan territory.
Earlier this month, they captured the key town of Badhadhe, some 180km (110 miles) south of the port of Kismayo.
The BBC's Barbara Plett, at the UN headquarters in New York, says the idea behind the expanded African force is to degrade al-Shabab as a military force and create a space for a political solution to the country's two-decade conflict.
The council resolution sets the African troops the task of moving into new areas of Somalia "to take all necessary measures" with Somali security forces "to reduce the threat posed by al-Shabab and other armed opposition groups", according to a copy of the text seen by AFP news agency.
The African Union mission already in the country is made up of troops from Burundi, Uganda and Djibouti but will take in Kenyan soldiers now fighting in Somalia.
The resolution will also require all UN members to stop trade in charcoal from Somalia, which is causing deforestation and serious environmental damage in the drought-prone country.
Though the government already bans charcoal exports from areas it controls, the trade is thriving in rebel-held areas.
Several ships loaded with charcoal are reported to leave the militant-controlled port of Kismayo each week, most bound for the Gulf states.