On Somalia's front line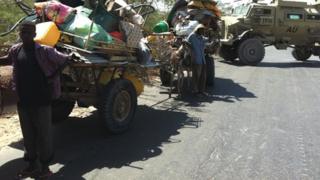 A narrow, dusty road leads into Mogadishu from the west. Thick bushes crowd the edges, and the African Union (Amisom) peacekeepers - soldiers from Burundi - who seized this desolate area a few days ago from militant Islamist group al-Shabab eye each passing vehicle nervously.
Our security guards urge us not to spend more than a few minutes outside the stone-walled compound where the Burundians and a group of Somali government troops are now based.
Vans and buses race past us in a constant stream, all heading into Mogadishu from the nearby town of Afgoye - a strategic junction still controlled by al-Shabab. Then we spot three men leading donkey carts piled high with possessions.
"People believe Amisom is advancing and going to that area and we're afraid there will be fighting," said Abdi Hassan, a refugee.
"Al-Shabab have made life very difficult. There is a shortage of food, insecurity, people being forced to work against their will. We were afraid so we fled from al-Shabab."
The men hurried on towards Mogadishu.
Late last year Amisom forces, backed by Somali government troops - many trained abroad in a scheme financed by the European Union (EU) - finally seized all but a few neighbourhoods in the city itself.
Now the frontlines have moved to the surrounding scrubland. Amisom's commanders are talking of a new push deeper into the countryside.
The next town along the road, Afgoye, is considered an early priority since it controls access to one of the few substantial roads running through the region.
"We have the advantage now," said Col Muhanga, a burly Ugandan who led some of the heaviest street-to-street fighting against al-Shabab.
In the ruins of an old stadium, captured in August, he showed me a large sandpit, transformed into a scale model of the neighbourhood, complete with cardboard houses, small trees and undulating terrain.
Urban warfare has traditionally favoured smaller, guerrilla forces like al-Shabab. But "it's getting easier now because we are moving into the open ground. Al-Shabab can't match us in open ground - we have more firepower than them," Col Muhanga said.
The Ugandans took us to their forward positions - trenches and sandbags on a ridge around Mogadishu University, overlooking miles of bush.
Col Muhanga said al-Shabab could now only take the occasional pot shots, mostly at night. A Somali government commander arrived with a group of soldiers. The government's forces have been plagued for years by clan divisions, corruption, and even defections to al-Shabab.
US special forces?
But Commander Akhmed Salat Ulusow brushed aside all doubts.
"Sure we can overpower al-Shabab. It will be child's play. In town it was more difficult. But we need financial support - we cannot afford anything," he said.
Back at the Amisom base on the seafront beside Mogadishu airport, I watched a small convoy of heavily armed, masked soldiers speed through the front gate - almost certainly led by American special forces who have reportedly set up camp at the end of the runway, presumably looking for al-Qaeda targets in the region and helping to co-ordinate attacks by US drones.
"We could have wished to get more," said Amisom's commander, Major General Fred Mugisha when I asked him if the extra African Union (AU) troops soon to be provided would be enough for the expanded operations he is now planning across Somalia.
The anticipated new arrivals should bring the force from 12,000 up to almost 18,000 men.
"We can always ask for more," said Gen Mugisha, spelling out his wish list.
"We need helicopters, and a limited maritime capability to do this job."
He insisted that al-Shabab was growing weaker, but said the time frame for defeating them "depends on how much the international community helps" and "how much we train" the Somali government forces.
"If we get what we have asked for it probably shouldn't be long," he said. The general confirmed that Amisom was looking to advance on the key port of Kismayo.
"I won't tell you when, but it won't take a long time."
For the next day or two, the focus is likely to switch away from the frontlines to London and Thursday's international conference on Somalia.
Gen Mugisha's hopes for the summit can be summed up in one word - "harmonisation." A polite way of suggesting it is time that Somalia's feuding elites, and an international community burdened with competing aims and interests, finally started speaking with one voice.